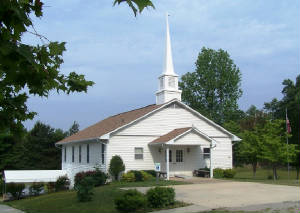 Come and Worship with us at
8256 Promise Land Road
Mountain Home, Arkansas 72653
Our Worship Schedule is
Sunday Bible Study - 9:45am
Sunday Worship - 11:00am
Wednesday Night Prayer Meeting - 6:00pm
Wednesday Night Bible Study - 7:00pm
Today's Memory Verse
"All scripture is given by inspiration of God, and is profitable for doctrine, for reproof, for correction, for instruction in righteousness: that the man of God may be perfect, thoroughly furnished to all good works."
2 TIMOTHY 3:16, 17

"I believe the Bible is the best gift God has given to man ... But for this Book, we could not know right from wrong ... Take all you can of this Book upon reason, and the balance on faith, and you will live and die a happier man."
ABRAHAM LINCOLN

"The fact that there are so many versions proves that the Bible has mistakes. Which one is right?"

True, there are many different versions of the Bible. There are versions in Chinese for the Chinese. There are versions in Russian for the Russian people. There are actually thousands of versions of the Bible-some are in modern languages, some in foreign languages, and some are in old English. Few, in the printing age, can claim that they don't have access to the Scriptures in their own language. However, each translation is based on the original biblical texts.

Cameron, K., & Comfort, R. (2004). The school of biblical evangelism: 101 lessons: how to share your faith simply, effectively, biblically-the way Jesus did (p. 339). Gainesville, FL: Bridge-Logos Publishers.
Day by Day by Grace
Even More on Grace and Good Works
And God is able to make all grace abound toward you, that you, always having all sufficiency in all things, may have an abundance for every good work. (2 Corinthians 9:8)
When considering the connection between grace and good works, God's ability is the priority issue. "And God is able to make all grace abound toward you." The Lord intends for us to be the objects of His ever-flowing grace. Our God is fully capable of accomplishing such an outpouring of His grace.
The Lord desires to "make all grace abound toward you." He wants to impact our lives with every aspect of His grace ("all grace"). He has grace available in every category that we will ever need. He is ready to flood our lives with such grace ("abound toward you"). This term ("abound") could be depicted as compelling waves consistently rolling up on the seashore, leaving an inevitable imprint.
God's grace impacts humble, trusting hearts in such a manner, imparting all that is needed for effective service. "That you, always having all sufficiency in all things...." Whenever we place our dependence in the Lord, He supplies everything that is necessary ("all sufficiency") for everything He would have us to do ("in all things").
The immediate context relates this truth to financial provision; yet, the language goes far beyond any circumstantial limitation: "having all sufficiency in all things." This speaks of any need in any situation. If we need grace for biblical family life, it is included here. If we need grace for running a godly business, it is offered here. If we need grace for witnessing, it is included here. If we need grace for church ministry, it is extended here: "That you, always having all sufficiency in all things."
Our God is a bountiful Master, who loves to lavish His resources upon His servants: "That you...may have an abundance." However, this bounty is not for personal whim or carnal indulgence. It is for "every good work." God's abundance is for the furthering of His will here on earth. So we can be encouraged. If our desire is to serve our Lord, immeasurable spiritual treasures are available for our service.
This does not mean we are exempt from seasons of apparent lack. We have lessons to learn that must be taught during times of adversity as well as abundance. "I know how to be abased, and I know how to abound. Everywhere and in all things I have learned both to be full and to be hungry, both to abound and to suffer need. I can do all things through Christ who strengthens me" (Philippians 4:12-13).
O Lord, giver of every good and perfect gift, remind me to look to You for abounding grace in every trial and in every opportunity. Lord, I know that I need You in the delightful times, just as much as in the agonizing times. Use me for implementing Your will in this rebellious world. I praise You that finding the grace I need for serving You depends on Your ability, not mine. Pour out Your grace, I pray, in Jesus' name, Amen.
Famous Last Words: Robert Louis Stevenson
(1850-1894), Scottish novelist and poet, was one of the greatest storytellers of his day and a master of beautiful language. Stevenson died at his beloved Samoa at age 44 from his lifelong disease of consumption. Just before he breathed his last, he gathered his household together and prayed:
"Behold with favor, O Lord, the weak men and women gathered together in the peace of this roof. When the day returns God would call them with morning faces and morning hearts, eager to labor, eager to be happy if happiness should be their portion."

Here at Promise Land Bible Church
We don't change the message, the message changes us.


Here at Promise Land Bible Church, we are honored that you are visiting our web site at www.plbcmh.com
It is our hope at Promise Land Bible Church that you will be encouraged by the preaching and teaching of God's Word presented here. For it is our desire to teach the whole council of God, so that the body can be edified and above all that God may be glorified.
For it is our passion and desire to share the Gospel message with everyone who will hear, in obedience to God's word.
Welcome to our site here at www.plbcmh.com
The fellowship of believers who call Promise Land Bible Church home would like to welcome you to our website. We believe that salvation is by grace alone, thru faith alone, in Christ alone, and that the Holy Scripture is our sole source of authority for what we do and how we live, and that everything we do, should be done for the glory of God. This is commonly called the 5 Solas of the Reformed Faith.
So here is our invitation to you;
If you are looking for a church that affirms the sole authority of the Holy Scriptures for all of faith and practice, the pre-eminence of the preaching of the Word of God, the glorious truths of salvation called the Doctrines of Grace, the necessity and responsibility of evangelism and a serious approach to the joyful worship of God, then we warmly invite you to come and visit us.
Join us as we look to the truth of scripture and Worship the Lord.
At www.plbcmh.com we do our best to present the truth of the gospel.
Christianity is just the jolliest thing imaginable!

(A.W. Tozer)

Professing Christians think of the world not as a battleground, but as a playground!
We are not here to fight--we are here to frolic!
We are not in a foreign land--we are at home.
We try to rid ourselves of our inhibitions and our frustrations, and live this life to the full.

This, we believe, is a fair summary of the religious philosophy of modern professors, openly professed by millions, and tacitly held by many more millions who live out that philosophy without having given it verbal expression.

The idea that this world is a playground instead of a battleground, has now been accepted in practice by the vast majority of professing Christians. They might hedge around the question if they were asked bluntly to declare their position, but their conduct gives them away. They are facing both ways, enjoying Christ and the world, gleefully telling everyone that accepting Jesus does not require them to give up their fun--Christianity is just the jolliest thing imaginable!

The "worship" growing out of such a view of life, is as far off center as the view itself--a sort of sanctified nightclub without the champagne and the dressed-up drunks.
Point to Ponder
A young man once received a letter from a lawyer stating that his grandmother had left him an inheritance. To his astonishment, it was $50,000 plus "my Bible and all it contains." The youth was delighted to receive the money. However, he knew what the Bible contained, and because he wasn't into religion he didn't bother to open it. Instead, he put it on a high shelf. He gambled the $50,000, and over the next fifty years he lived as a pauper, scraping for every meal. Finally he became so destitute, he had to move in with his relatives. When he cleaned out his room, he reached up to get the dusty old Bible from the shelf. As he took it down, his trembling hands dropped it onto the floor, flinging it open to reveal a $100 bill between every page. The man had lived as a pauper, simply because of his prejudice. He thought he knew what the Bible "contained."


Word of the Day
February 16
Injurious [Person]
hubristēs
In his first letter to Timothy, Paul writes candidly that before his conversion on the road to Damascus (Act_9:1-9), he was "a blasphemer, and a persecutor, and injurious" (1Ti_1:13). A "blasphemer" (blasphemos, G989) is one who slanders God, which Paul (Saul) not only did but compelled Christians to do in his persecution of them (Act_26:11). A "persecutor" (diōktēs, G1376) was one who pursued someone for the purpose of persecuting them.
Most graphic, however, is the fact that Paul says he was injurious. The Greek hubristēs (G5197) is rendered in various ways among Bible translations: "insolent man" (NKJV), "violent man" (NIV), and "violent aggressor" (NASB). None of those, however, completely captures the idea. Hubristēs denotes a person who is not just violent, but who is driven by violence and contempt for others. To see them humiliated and suffering actually brings him pleasure. We could almost call him a sadist, although insanity is not implied. Act_9:1 also declares that Saul was "breathing out threatenings and slaughter against the disciples of the Lord." It is no wonder that Paul was amazed by God's will to convert him.
Hubristēs also appears in the list of sins that describe man's fallen nature in Rom_1:30, where the AV translates it "despiteful." Additionally, our Lord used the verb form (hubrizō) to describe the mistreatment He would suffer during His arrest and trial (Luk_18:32, "spitefully").
What an encouragement this fact is to evangelism! We have all heard people say, "I'm too great a sinner for God to save me." Paul's story enables us to respond by asking them, "Have you ever murdered someone? Have you ever dragged someone out of their home and beat them in the street?" Fortunately, most people have not, but even if they have, God can save them as He did Paul.
Scriptures for Study: Read Act_7:55-58, Act_8:1-4, and Act_9:1-2, noting the actions of Saul (Paul).
Thanks for visiting our site here at www.plbcmh.com