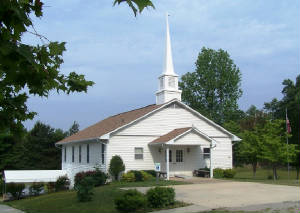 Come and Worship with us at
8256 Promise Land Road
Mountain Home, Arkansas 72653
Our Worship Schedule is
Sunday Bible Study - 9:45am
Sunday Worship - 11:00am
Wednesday Night Prayer Meeting - 6:00pm
Wednesday Night Bible Study - 7:00pm
Today's Memory Verse
"Every word of God is pure: he is a shield unto them that put their trust in him. Add not unto his words, lest he reprove you, and you be found a liar."
PROVERBS 30:5, 6

Quote of the Day
"The number one reason people don't share their faith is that their walk doesn't match their talk."
MARK CAHILL

"How should I witness to my coworkers?"

When we interact with people on a daily basis, we have many opportunities for sharing our faith.
First, be sure you are respectful to your employer and set a good example in your work ethic by working "as to the Lord" (Colossians 3:23). When others around you grumble and complain, if you have a calm, forgiving, steadfast spirit, it will make an impression. As you respond in a Christlike way to angry coworkers and stressful circumstances, people will see a difference in your life.
Always be friendly and courteous, and show genuine interest in your coworkers' lives. Invite them out to lunch to get better acquainted. Share their joys and sorrows by congratulating them in their good times and offering to pray for them in their bad times. Be sure you do pray for them, then follow up by asking them about the situation you prayed for. They will be moved by your concern.
If coworkers are discussing what they did during the previous weekend, you can share your excitement about attending church services or a special church event. Ask others if they have any plans for celebrating Easter or Christmas; be nonjudgmental of their answer, but be ready (if asked) to explain why you celebrate as you do. Displaying a favorite Scripture or a devotional calendar, or reading your Bible during lunchtime, may prompt others to inquire about your faith.
Bringing home-baked goods or leaving a small gift with a note on a coworker's desk can sometimes have a greater impact than a thousand eloquent sermons. We can show our faith by our works. Others may not like a tree of righteousness, but they cannot help but like its fruit. Pray for opportunities to share the gospel, being careful not to infringe on your employer's time.

Cameron, K., & Comfort, R. (2004). The school of biblical evangelism: 101 lessons: How to share your faith simply, effectively, biblically-the way Jesus did (620-621). Gainesville, FL: Bridge-Logos Publishers.
Day by Day by Grace
The Resurrection: Reality, Not Dead Religion
Now as they spoke to the people, the priests, the captain of the temple, and the Sadducees came upon them, being greatly disturbed that they taught the people and preached in Jesus the resurrection from the dead. (Acts 4:1-2)
The resurrection of Christ is the difference between a dead religion and a personal relationship. Living by resurrection power is the difference between earthly striving and heavenly reality. These differences can be seen in the contrast between the religious authorities of Israel and the disciples of Jesus.
The disciples were proclaiming to the people the wondrous message of the risen Lord Jesus. "They taught the people and preached in Jesus the resurrection from the dead." Such a message infuriated the religious leaders. "The priests, the captain of the temple, and the Sadducees came upon them, being greatly disturbed." Today, many religious leaders reflect a similar response. In the popular religious world, universalism and skepticism prevail. Each religion is viewed as one more road leading to God. For many, the miraculous is unacceptable, as human reasoning reigns supreme. In many religious circles, the resurrection of Jesus Christ is either an object of scoffing or an area of hypocritical compromise.
The Sadducees of old were like this. They would talk about the resurrection, even asking Jesus questions that seemed to affirm that God could raise people from the dead. "Therefore, in the resurrection, whose wife of the seven will she be? For they all had her" (Matthew 22:28). This question followed their scenario in which seven brothers would become the husband of the same woman, through seven death and marriage sequences. What a mockery this question represented. First, it was given in hypocrisy. "The Sadducees, who say there is no resurrection, came to Him and asked Him" (Matthew 22:23). Second, they were unaware of what the Scriptures said about such a heavenly matter. "For in the resurrection they neither marry nor are given in marriage" (verse 30). Jesus explained that these religious rationalists made two great errors in their approach. "You are mistaken, not knowing the Scriptures nor the power of God" (verse 29).
We who have been born again by faith in the risen Lord Jesus can err in a similar fashion in our day by day living. We can talk about the resurrection of Jesus, but behave as though it were not an actual reality for Christian living. We can be mistaken, "not knowing the Scriptures nor the power of God."
Dear Heavenly Father, thank You for Your patience when I profess belief in the resurrection, but live by my inadequate human resources. Help me to understand what the Scriptures say about living daily in the power of the resurrection of Christ, Amen.
Word of the Day
March 26
Mercy
eleos
A simple definition of mercy is "the withholding of deserved punishment and relieving distress." The Greek eleos (G1656) speaks of "compassion, pity." One Greek lexicon tells us, "Kindness or good will towards the miserable and afflicted, joined with a desire to relieve them." Even the pagans of Greece felt pity. Aristotle wrote that tragedy aroused pity and even fear that the same tragedy might befall them.
This word appears in Mat_23:23, for example, where our Lord calls the Pharisees hypocrites because while they fastidiously counted out a tenth of the seeds of herbs to give as tithes, they ignored the more important matters of mercy and faith. In a graphic example of mercy, after the Lord told the disciples the parable of how the Good Samaritan showed mercy (Luk_10:25-37), He then told them to "Go, and do thou likewise."
Paul also used this word often in his letters as a simple reminder of God's mercy, a reminder that none of us can hear too often (Rom_9:23; Rom_11:31; Gal_6:16). In one of the most pointed verses in Scripture about salvation not being by works, Paul wrote to Titus: "Not by works of righteousness which we have done, but according to his mercy he saved us, by the washing of regeneration, and renewing of the Holy Ghost" (Tit_3:5). This word was so imbedded in Paul's thinking, in fact, that he even used it often in salutations (1Ti_1:2; 2Ti_1:2; Tit_1:4).
So mercy is obviously always to the helpless. Moreover, as Eph_2:1-3 show, we deserve whatever tragedy, affliction, misery, depression, heartache, and all other pain that befall us, but God relieves it by His undeserved mercy. In short, we deserve God's wrath, but He is merciful; He relieves us out of His incomprehensible compassion.
Before we close, let us note the important distinction between mercy and grace:
Mercy - the withholding of what is deserved (e.g., death and hell).
Grace - the bestowing of what is not deserved (e.g., life and heaven).
Or as one commentator puts it, "Mercy pities. Grace pardons."
Scriptures for Study: Upon whom does God show mercy, according to Luk_1:50? As Christians, where do we continually find mercy (Heb_4:16)?
Famous Last Words: David M. Moir,
Scottish physician and poet who died in 1851, was a sincere believer and said on his deathbed:
"May the Lord my God not separate between my soul and body until He has made a final separation between my soul and sin, for the sake of my Redeemer."

Here at Promise Land Bible Church
We don't change the message, the message changes us.


Here at Promise Land Bible Church, we are honored that you are visiting our web site at www.plbcmh.com
It is our hope at Promise Land Bible Church that you will be encouraged by the preaching and teaching of God's Word presented here. For it is our desire to teach the whole council of God, so that the body can be edified and above all that God may be glorified.
For it is our passion and desire to share the Gospel message with everyone who will hear, in obedience to God's word.
Welcome to our site here at www.plbcmh.com
The fellowship of believers who call Promise Land Bible Church home would like to welcome you to our website. We believe that salvation is by grace alone, thru faith alone, in Christ alone, and that the Holy Scripture is our sole source of authority for what we do and how we live, and that everything we do, should be done for the glory of God. This is commonly called the 5 Solas of the Reformed Faith.
So here is our invitation to you;
If you are looking for a church that affirms the sole authority of the Holy Scriptures for all of faith and practice, the pre-eminence of the preaching of the Word of God, the glorious truths of salvation called the Doctrines of Grace, the necessity and responsibility of evangelism and a serious approach to the joyful worship of God, then we warmly invite you to come and visit us.
Join us as we look to the truth of scripture and Worship the Lord.
At www.plbcmh.com we do our best to present the truth of the gospel.
American Minute
March 26th:
Richard Allen was born to slave parents in Philadelphia and sold with his family to a plantation in Dover, Delaware.

As a young man, Richard's master, Stokley Sturgis, gave permission for him to attend Methodist religious meetings where he learned to read.

In the year 1777, at the age of 17, Richard Allen was converted and determined to work even harder to prove that Christianity did not make slaves slothful.

Richard Allen invited a Methodist minister to visit his master and preach to him. Methodists were against slavery, as founder John Wesley had called it "that execrable sum of all villainies."

After his master heard that on the Day of Judgment slaveholders would be "weighed in the balance and found wanting," he converted and made arrangements for Richard to become free.

Richard Allen became a licensed exhorter, and in 1783, set out preaching in Delaware, New Jersey, Pennsylvania and Maryland, walking so much that his feet became severely blistered.

In the winter of 1784, Richard Allen, and another freedman, Harry Hosier, attended the Methodists "Christmas Conference," where the Methodist Church officially separated from the Church of England to form its own denomination.

Allen was invited but declined to preach in Southern States with the circuit-riding preacher Francis Asbury, America's first Methodist Bishop.

Instead, Harry Hosier accompanied Francis Asbury as his carriage driver.

Harry Hosier, though illiterate, memorized verbatim entire sermons and long passages of Scripture, resulting in Bishop Asbury letting him preach at his meetings with great effect.

Dr. Benjamin Rush, a Signer of the Declaration of Independence, exclaimed that Harry Hosier preached the greatest sermon he had ever heard.

Richard Allen and other African Americans from St. George's Methodist Episcopal Church began their own church.

Their first church building was dedicated by Bishop Francis Asbury in 1794.

Dr. Benjamin Rush and George Washington contributed to Richard Allen's church.

In 1816, Richard Allen led in the forming of an entirely new denomination, the African Methodist Episcopal Church, which was the first African-American denomination organized in the United States.

The main building was in Philadelphia, named Mother Bethel AME Church. It is the oldest parcel of real estate in the United States owned continuously by African Americans.

Jarena Lee became the first woman to receive "authorization" to preach, with Richard Allen giving his approval.

Richard Allen supported AME missionaries to Haiti. In 1827, the church sent Rev. Scipio Beanes to Haiti.

By the date of Richard Allen's death, MARCH 26, 1831, the African Methodist Episcopal Church had grown to over 10,000 members, and since then, to over 3 million.

The motto of the AME Church is: "God Our Father, Christ Our Redeemer, the Holy Spirit Our Comforter, Humankind Our Family."

Richard Allen wrote in his autobiography: "I was born in the year of our Lord 1760, on February 14th, a slave to Benjamin Chew, of Philadelphia ...

My mother and father and four children of us were sold into Delaware State, near Dover, and I was a child and lived with him until I was upwards of twenty years of age, during which time I was awakened and brought to see myself poor, wretched and undone, and without the mercy of God must be lost ... I went with my head bowed down for many days. My sins were a heavy burden. I was tempted to believe there was no mercy for me. I cried to the Lord both night and day.

One night I thought hell would be my portion. I cried unto Him who delighteth to hear the prayers of a poor sinner; and all of a sudden my dungeon shook, my chains flew off, and glory to God, I cried. My soul was filled. I cried, enough for me -- the Savior died."

Bishop Richard Allen stated: "This land, which we have watered with our tears and our blood, is now our mother country, and we are well satisfied to stay where wisdom abounds and Gospel is free."
Point to Ponder
The BBC once broadcast a documentary about a man who played castanets to his tomatoes. The gentleman placed earphones on his tomatoes and played classical music for them-in stereo, of course. This man was obviously a nut. However, the program then revealed that the man's name was in The Guinness Book of World Records for having the world's largest tomato: four-and-a-half pounds. The valuable lesson learned is that we should never knock something until we see its results.
The next time you see a caterpillar on a leaf, study it for a while. You will notice that it twists and turns until it has wound itself into a web, finally encasing itself into a cocoon. We don't knock what it's doing because we know that a metamorphosis is taking place within the cocoon. A miracle of nature is happening. In time, a beautiful butterfly will appear.
To those who don't understand, Christians are doing no more than wrapping themselves with rules and regulations, hiding from the real world in the cocoon of Christianity. But wait. Don't knock it until you see the results. When you look at the Church today, you're looking at the grub. Granted, we do seem to lack in so many areas. But the One who created the process of metamorphosis is at work in the hearts of those who love Him, and the day will come when the butterfly will emerge.
Today's Grace Gem
Fanning the inextinguishable fire, and sharpening the tooth of the immortal worm!

(Edward Payson, 1783-1827)

If you would learn the full extent of that wretchedness which sin produces--then you must follow it into the eternal world, and descend into those regions where peace and hope never come. There behold sin tyrannizing over its wretched victims with uncontrollable fury--fanning the inextinguishable fire, and sharpening the tooth of the immortal worm!

See angels and archangels, thrones and dominions, principalities and powers--stripped of all their original glory and beauty--bound in eternal chains, and burning with rage and malice against that Being in whose presence they once rejoiced, and whose praises they once sang!

See multitudes of the human race, in unutterable agonies of anguish and despair--cursing the Giver and Prolonger of their existence, and vainly wishing for annihilation to put an end to their miseries.

Follow them through the long, long ages of eternity--and see them sinking deeper and deeper in the bottomless abyss of ruin! View them perpetually blaspheming God because of their plagues, and receiving the punishment of these blasphemies in continued additions to their wretchedness.

Such are the wages of sin--such the doom of the finally impenitent!

From these depths of anguish and despair--look up to the mansions of the blessed, and see to what a height of glory and felicity, the grace of God will raise every sinner who repents. See those who are thus favored in unutterable ecstasies of joy, love, and praise--beholding God face to face, reflecting His perfect image, shining with a splendor like that of their glorious Redeemer, and bathing in those rivers of pleasure which flow forever at God's right hand!
Thanks for visiting our site here at www.plbcmh.com