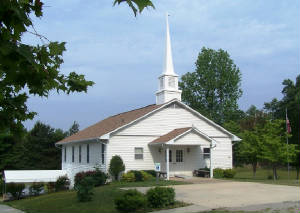 Come and Worship with us at
8256 Promise Land Road
Mountain Home, Arkansas 72653
Our Worship Schedule is
The Church is Open, worship with us inside or outside, message is transmitted on FM 95.1
Sunday Bible Study - 9:45am
Sunday Worship - 11:00am
Wednesday Night Prayer Meeting - 6:00pm
Wednesday Night Bible Study - 7:00pm
"The evangelist who preaches for eternity is never great on numbers. He is not apt to count hundreds of converts where there is no restitution, no confession, and no glad cry which proclaims, 'The lost is found, the dead is made alive again!' "
E. M. BOUNDS

"Adam didn't die the day God said he would!"

He certainly did-he died spiritually. The moment he sinned, he became "dead in trespasses and sins" (Ephesians 2:1). Ezekiel 18:4 says, "The soul that sins, it shall die." Ian Thomas explained it this way: "We are born dead in trespasses and sins, alienated, cut off, detached from the life of God. The day that man believed the devil's lie (which is sin), he forfeited the life that distinguished him from the animal kingdom-the life of God. When sin came in, the life went out."
It is because we are born spiritually dead that Jesus came to give us spiritual life (John 5:40; 10:10; 14:6; etc.). This is why Jesus told us that we must be born again (John 3:3). When we repent of our sins and place our trust in the Savior, the Bible tells us that we "pass from death to life" (John 5:24; Romans 6:13; 1 John 3:14).

Cameron, K., & Comfort, R. (2004). The school of biblical evangelism: 101 lessons: how to share your faith simply, effectively, biblically-the way Jesus did (pp. 161-162). Gainesville, FL: Bridge-Logos Publishers.
Point to Ponder

A true story was told of a young soldier in the Civil War. After an explosion left him seriously injured, he lay on the battlefield covered in blood. A male nurse sat beside the helpless trooper, holding his thumb on the man's neck to stop the bleeding.
In the heat of battle, a doctor came alongside the two men. He looked closely at the wound and told the soldier that he was very fortunate. The damage was very close to a main artery, and if that had been severed he would have died almost immediately.
The doctor carefully stitched the small veins over which the nurse had applied pressure.
A few minutes later, he was called back. The terrified nurse was holding his thumb over a main artery, which had suddenly burst. The good doctor explained that he could now do nothing for the soldier. As soon as the nurse removed his thumb, blood would gush out rapidly, and there was no way he could contain its flow.
Over the next three hours, the brave young soldier thanked the nurse for what he had done for him, wrote farewells to his loved ones, put his affairs in order, then told the nurse to remove his thumb. The horrified nurse turned his face away from the young warrior as he removed his thumb; the soldier was dead within minutes.
Whether we are enlightened to understand it or not, the eternal God of creation holds our life in His hands. When the preserving presence of His hand is removed, we die. We are but mortal human beings, and "in Him we live and move and have our being." Every breath we take, and every heartbeat that follows, comes only because He keeps His gracious hand upon our lives.
He alone is the origin of human life, the One who sustains our very existence.


Day by Day by Grace
Living as Jesus Lived
"Do you not believe that I am in the Father, and the Father in Me? The words that I speak to you I do not speak on My own authority; but the Father who dwells in Me does the works...As the living Father sent Me, and I live because of the Father, so he who feeds on Me will live because of Me." (John 14:10 and 6:57)
We are to live by trusting in the goodness of the Lord. "Oh, taste and see that the LORD is good; Blessed is the man who trusts in Him!" (Psalm 34:8). Jesus is the ultimate example of living by such trust. When we think of being like Jesus (or we ask, "What would Jesus do?"), the biblical perspective is far more profound than prevailing opinion might provide.
Jesus lived by depending upon the intimate relationship He had with the Father. "I am in the Father, and the Father in Me." When Jesus spoke or took action, it was not on His own initiative or by His own resources. "The words that I speak to you I do not speak on My own authority; but the Father who dwells in Me does the works." Although Jesus was God coming to earth as a man, He did not live by exercising His deity: "Who, being in the form of God, did not consider it robbery to be equal with God, but made Himself of no reputation, taking the form of a servant" (Philippians 2:6-7). Jesus lived as a dependent human servant, trusting in the Father to work in and through Him. The prophets of old predicted this path, as they recorded the confessions Messiah would make about His ministry here on earth. "For I [that is, the Messiah, Jesus] shall be glorious in the eyes of the LORD, and My God shall be My strength...The Lord God will help Me [that is, the Messiah, Jesus]; therefore I will not be disgraced" (Isaiah 49:5; 50:7). Jesus would depend upon the Father.
Jesus eventually applied this kind of dependent relationship to us. The structure of His teaching was "As... so." As it was between Jesus and the Father, so it is to be between us and Jesus. Jesus lived His life by depending upon the Father. Without ceasing to be God, He lived as a man, showing us how man is to live. "As the living Father sent Me, and I live because of the Father." Jesus lived by trusting in the Father to work in and through Him. We are to look to Jesus to do the same through us. "So he who feeds on Me will live because of Me." Jesus taught that feeding on Him involved coming to Him in trust. "I am the bread of life. He who comes to Me shall never hunger, and he who believes in Me shall never thirst" (John 6:35).
Lord Jesus, my hope and my strength, I want to live in true Christlikeness-facing all of life as You did. I want to learn to depend upon You, even as You depended upon the Father. Teach me, Lord, I pray in Your name, Amen.
Here at Promise Land Bible Church
We don't change the message, the message changes us.


Here at Promise Land Bible Church, we are honored that you are visiting our web site at www.plbcmh.com
It is our hope at Promise Land Bible Church that you will be encouraged by the preaching and teaching of God's Word presented here. For it is our desire to teach the whole council of God, so that the body can be edified and above all that God may be glorified.
For it is our passion and desire to share the Gospel message with everyone who will hear, in obedience to God's word.
Welcome to our site here at www.plbcmh.com
The fellowship of believers who call Promise Land Bible Church home would like to welcome you to our website. We believe that salvation is by grace alone, thru faith alone, in Christ alone, and that the Holy Scripture is our sole source of authority for what we do and how we live, and that everything we do, should be done for the glory of God. This is commonly called the 5 Solas of the Reformed Faith.
So here is our invitation to you;
If you are looking for a church that affirms the sole authority of the Holy Scriptures for all of faith and practice, the pre-eminence of the preaching of the Word of God, the glorious truths of salvation called the Doctrines of Grace, the necessity and responsibility of evangelism and a serious approach to the joyful worship of God, then we warmly invite you to come and visit us.
Join us as we look to the truth of scripture and Worship the Lord.
At www.plbcmh.com we do our best to present the truth of the gospel.
Today's Memory Verse
"As it is written, There is none righteous, no, not one: there is none that understands, there is none that seeks after God. They are all gone out of the way, they are together become unprofitable; there is none that does good, no, not one."
ROMANS 3:10-12

Today's Grace Gem
A hand, a divine and omnipotent hand!
(Horatius Bonar, "The Night of Weeping")
The Holy Spirit is our Comforter. He is mighty to comfort as well as to sanctify.

His name is "the Comforter." His office is to console.

In the discharge of this office He puts forth His power, not only mediately and indirectly through the Word, but immediately and directly upon the soul, sustaining and strengthening it when fainting and troubled.

It is an unspeakable consolation to know that there is a hand, a divine and omnipotent hand,
laid upon our wounded spirit--not only upholding it, but drying up, as it were, the very springs of grief within.

In the day of oppressive sorrow, when bowed down to the dust, what is it that we feel so much our need of, as a hand that can come into close and direct contact with our souls to lift them up and strengthen them?

It is here that human consolation fails. Friends can say much to soothe us, but they cannot lay their finger upon the hidden seat of sorrow. They can put their arm around the fainting body, but not around the fainting spirit.

Here the heavenly aid comes in! The Spirit throws around us the everlasting arms, and we are invincibly upheld. We cannot sink, for He sustains, He comforts, He cheers. And who knows so well as He how to sustain, and comfort, and cheer?
Word for the Day
April 20
Good Works
agathois ergois
Having studied in Eph_2:8-9 that works do not save, does that mean works have no place whatsoever in the believer's life? Does that mean works are meaningless and irrelevant? Absolutely not, as Paul makes clear in the very next verse: "For we are his workmanship, created in Christ Jesus unto good works, which God hath before ordained that we should walk in them" (Eph_2:10). Good works do not produce salvation, but salvation most certainly produces good works.
Back on March 18, we examined agathos (G18, good) and learned that it has a wide range of meanings: benevolent, profitable, useful, beneficial, excellent, virtuous, and suitable. We see here, then, the plural agathois. Works is ergois (plural of ergon, G2041), which means an act, a deed, the doing of labor, or even employment. The Christian, therefore, is now employed to do things that are good in all the ways implied by agathos. And that is quite a job!
Commentator Walter Liefeld relates this personal testimony that underscores the importance of these verses and this principle:
There are few verses both more important and more misunderstood than Eph_2:8-9. This is partly because Eph_2:10 is often not quoted along with them. When I was a young Christian I acquired a pack of Bible verses to memorize. Among the first were Eph_2:8-9. I began quoting them in witnessing, but it took me years to realize that the omission of Eph_2:10 was one reason I was having trouble persuading my morally sensitive friends that salvation is only by grace. The almost inevitable response was that if this is true, Christians can live as they please and still go to heaven. Rom_6:1 deals with this issue as well, but when we quote Eph_2:8-9 it should not be necessary to leave the Ephesian context, because Eph_2:10 gives the needed corrective: we are created in Christ Jesus to do good works.
Many Christians think that since our salvation was a gift, it, therefore, does not demand anything of us. Jesus is presented today as a "fix-it" for all our problems and someone who doesn't demand anything from us. That is serious error! Any gift demands a response even if it is only a simple "thank you." But truly our salvation demands much more than a "thank you" because our salvation is a life-altering reality; it transforms a depraved, hell-bound sinner into a blood-bought, heaven-bound saint.
Scriptures for Study: What prepares us for doing good works, according to 2Ti_3:16-17? What's the challenge of Heb_10:24 in relation to good works?
Famous Last Words: Andrew Jackson
(1767-1845), the seventh President of the U.S., loved to read the Bible, and heaven was near and dear to him. Shortly before he died, he gathered his family and servants to his bedside and told them:
"I have suffered much bodily pain, but my sufferings are but as nothing compared with that which our blessed Redeemer endured upon the accursed cross, that all might be saved who put their trust in Him."

Thanks for visiting our site here at www.plbcmh.com