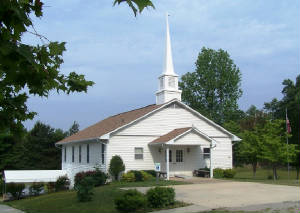 Come and Worship with us at
8256 Promise Land Road
Mountain Home, Arkansas 72653
Our Worship Schedule is
The Church is Open, worship with us inside or outside, message is transmitted on FM 95.1
Sunday Bible Study - 9:45am
Sunday Worship - 11:00am
Wednesday Night Prayer Meeting - 6:00pm
Wednesday Night Bible Study - 7:00pm
Today's Memory Verse
"Submit yourselves therefore to God. Resist the devil, and he will flee from you. Draw near to God, and he will draw near to you. Cleanse your hands, you sinners; and purify your hearts, you double minded."
JAMES 4:7, 8

"Satan, the God of all dissension, stirreth up daily new sects, and last of all, which of all other I should never have foreseen or once suspected, he has raised up a sect such as teach ... that men should not be terrified by the Law, but gently exhorted by the preaching of the grace of Christ."
MARTIN LUTHER

"The Bible says 'an eye for an eye,' encouraging us to take the law into our own hands by avenging wrongdoing."

This verse is so often misquoted by the world. Many believe it is giving a license to take matters into our own hands and render evil for evil. In reality, it is referring to civil law concerning restitution. If someone steals your ox, he is to restore the ox. If someone steals and wrecks your car, he is to buy you another one ... a car for a car, an eye for an eye, a tooth for a tooth.
The spirit of what Jesus is saying here is radically different from the "sue the shirt off the back of your neighbor" society in which we live.

Cameron, K., & Comfort, R. (2004). The school of biblical evangelism: 101 lessons: how to share your faith simply, effectively, biblically-the way Jesus did (pp. 271-272). Gainesville, FL: Bridge-Logos Publishers.
Day by Day by Grace
The Initial Grace of God
"I will forgive their iniquity, and their sin I will remember no more"...For by grace you have been saved through faith, and that not of yourselves; it is the gift of God, not of works, lest anyone should boast. (Jeremiah 31:34 and Ephesians 2:8-9)
Again, we have the opportunity to compare justifying grace and sanctifying grace, initial grace and ongoing grace. This is always an edifying and valuable exercise, since we tend to forget that we are sanctified through the same means that we are justified.
The initial grace that impacted our lives forever was the justifying, forgiving grace of God. The prophets of old proclaimed this hope. The writers of the New Testament related it to us today. "I will forgive their iniquity, and their sin I will remember no more" (Jeremiah 31:34; also in Hebrews 8:12). When we repented of our sins and called upon the name of the Lord, we were forgiven and justified, declared not guilty and righteous in His sight.
This saving work of God on our behalf was all accomplished by the grace of God. "For by grace you have been saved." The saving grace of God is applied to lives as they trust in Jesus Christ as their Lord and Savior. "By grace you have been saved through faith."
None of this process originates in man. All of it comes from God. "And that not of yourselves; it is the gift of God." No aspect of salvation derives from the efforts of man, so no one will ever be able to brag about their contribution in being saved. "Not of works, lest anyone should boast." All glory, now and forever, will go to the Lord Himself. "He who glories, let him glory in the Lord" (1 Corinthians 1:31).
Yes, even faith does not source in man. Jesus is "the author and finisher of our faith" (Hebrews 12:2). When we believed upon the Lord Jesus, it was in response to an authoring, revealing work that He was doing on our behalf. Jesus manifested Himself to us through the gospel as One who was able to save us sinners. The Holy Spirit was convicting us of our need. We trusted in His saving work for us. Thereby, He authored faith in us. "Worthy is the Lamb who was slain to receive power and riches and wisdom, and strength and honor and glory and blessing" (Revelation 5:12).
As we have seen previously (and will have opportunity to examine again and again), the grace of God, of which we partook for new birth and justification, is the same grace that must continually be at work in us for growth and sanctification.
O Lord God of my salvation, I clearly see the full extent to which my being saved depended upon Your saving grace! Thank You for this priceless gift of grace. How glorious it is to stand justified in Your sight. Now that I might grow daily in a life of sanctification, I look to You and Your necessary grace, Amen.
Here at Promise Land Bible Church
We don't change the message, the message changes us.


Here at Promise Land Bible Church, we are honored that you are visiting our web site at www.plbcmh.com
It is our hope at Promise Land Bible Church that you will be encouraged by the preaching and teaching of God's Word presented here. For it is our desire to teach the whole council of God, so that the body can be edified and above all that God may be glorified.
For it is our passion and desire to share the Gospel message with everyone who will hear, in obedience to God's word.
Welcome to our site here at www.plbcmh.com
The fellowship of believers who call Promise Land Bible Church home would like to welcome you to our website. We believe that salvation is by grace alone, thru faith alone, in Christ alone, and that the Holy Scripture is our sole source of authority for what we do and how we live, and that everything we do, should be done for the glory of God. This is commonly called the 5 Solas of the Reformed Faith.
So here is our invitation to you;
If you are looking for a church that affirms the sole authority of the Holy Scriptures for all of faith and practice, the pre-eminence of the preaching of the Word of God, the glorious truths of salvation called the Doctrines of Grace, the necessity and responsibility of evangelism and a serious approach to the joyful worship of God, then we warmly invite you to come and visit us.
Join us as we look to the truth of scripture and Worship the Lord.
At www.plbcmh.com we do our best to present the truth of the gospel.
Today's Grace Gem
Active, operating, influential principles of the life!
(John MacDuff, "The Throne of Grace")
It is the work of the blessed Spirit to take of the things of Christ, and to show them to the soul; to reveal to us the precious benefits of redemption, and the riches of Divine grace--and to present them to us in such a transforming, and convincing, and penetrating form, as that they shall not only become sources of abiding comfort to the heart--but active, operating, influential principles of the life!

It is the work of the blessed Spirit to be the Comforter of the children of God. Yes . . .
wherever a believer is afflicted;
wherever he sheds a sorrowful tear;
wherever he is pained by some heart-rending grief;
wherever he is bowed beneath some oppressive burden--
there is the Comforter to cheer, to solace, to sustain; pointing him . . .
from the wound--to its balm,
from the grief--to its ultimate cure,
from present suffering--to eternal rest at God's right hand!

The Holy Spirit is not a traveler to sojourn for a season, but He is a Friend to abide and dwell with you--a spiritual mentor to be always near . . .
to guide you--in all seasons of perplexity,
to strengthen you--in all times of weakness,
when you are discouraged--to uphold you,
when you are wandering--to lead you back,
when you are nearly overcome in your spiritual conflict--to bring you more of His divine strength and grace.

"The Holy Spirit helps us in our distress." Romans 8:26
Word of the Day
January 26
Wisdom [and] Prudence
sophia [and] phronēsis
In contrast to man's empty philosophies, the apostle Paul declares that the second result of redemption is that God, through Christ, has given us wisdom and prudence-or "knowledge and insight" (Eph_1:8). How profound! Only through Jesus Christ can we have true knowledge and insight. Men have been groping for both for millennia, when all they have to do is open the pages of God's Word.
The Greek for wisdom is sophia (G4678), a very important word to the Greeks. It spoke of a quality or attitude rather than an action. Its basic meaning, according to Aristotle, is "knowledge of the most precious things." While Aristotle didn't fully know what the most precious things were, he did have the main concept right. It referred to deep knowledge and learning, "implying cultivation of mind and enlightened understanding." In other words, sophia speaks of the knowledge of the things that really matter, the things that matter most.
Prudence, then, is phronēsis (G5428), another important concept to the Greeks. Its basic meaning was "way of thinking, frame of mind, intelligence, good sense," but it often had the fuller idea of "discernment and judicious insight." It was being able to see beyond just the knowledge of a thing, to see how that thing applied and how it was practical. Aristotle called this the knowledge of human affairs and of things in which planning is necessary. Plutarch called this the practical knowledge of the things that concern us. We could, therefore, translate this as "insight" or even discernment (see July 15ff.).
Paul, therefore, uses these two terms to show that the believer has been given both wisdom and insight to thoroughly equip him for life. Sophia emphasizes a deep knowledge of things that really matter, that is, the truths of God, truths such as: life and death, God and man, righteousness and sin, heaven and hell, and so on. Does the world have knowledge of such subjects? No, but the believer does. Phronēsis, then, emphasizes how to make all of this practical, how to make these things that matter most apply to daily life. Depth is important, but what good is deep knowledge if it is not practical?
Scriptures for Study: How deep is God's wisdom, according to Rom_11:33? If we lack wisdom (and we do), how do we get it, according to Col_3:16 and Jas_1:5?
Famous Last Words: John Bacon,
the British sculptor of great ability who died in 1799, left the following self-composed inscription for his tombstone:
"What I was as an artist seemed to me of some importance while I lived, but what I really was as a believer in Christ Jesus is the thing of importance to me now."

Thanks for visiting our site here at www.plbcmh.com