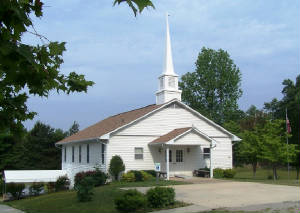 Come and Worship with us at
8256 Promise Land Road
Mountain Home, Arkansas 72653
Our Worship Schedule is
Sunday Bible Study - 9:45am
Sunday Worship - 11:00am
Wednesday Night Prayer Meeting - 6:00pm
Wednesday Night Bible Study - 7:00pm
Today's Memory Verse
"Do you not know that the unrighteous shall not inherit the kingdom of God? Be not deceived: neither fornicators, nor idolaters, nor adulterers, nor effeminate, nor abusers of themselves with mankind, nor thieves, nor covetous, nor drunkards, nor revilers, nor extortioners, shall inherit the kingdom of God."
1 CORINTHIANS 6:9, 10

"I think a good rule of thumb to follow would be to presume the Lord wants you to share the gospel with everyone unless He leads you not to."
DANNY LEHMANN

"How do I reach my neighbors with the gospel?"

Neighbors are like family. We don't want to offend them unnecessarily, because we have to live with them. We need to be rich in good works toward all men, but especially our neighbors. The Bible reveals that this is a legitimate means of evangelism. Jesus said, "Let your light so shine before men, that they may see your good works, and glorify your Father who is in heaven" (Matthew 5:16). It is God's will that "with well doing you may put to silence the ignorance of foolish men" (1 Peter 2:15). Sinners may disagree with what you believe, but seeing your good works makes them think, "I don't believe what he believes, but he sure does. He certainly is sincere in his faith."
A friendly wave, a gift for no reason, fresh-baked goods, etc., can pave the way for evangelism. Offer to mow your neighbors' lawn or help do some painting. Volunteer to pick up their mail and newspapers while they are on vacation. Compliment them on their landscaping and ask for gardening tips. Invite them over for a barbecue or dessert. Pray for an opportunity to share the gospel, and be prepared for it when it comes.

Cameron, K., & Comfort, R. (2004). The school of biblical evangelism: 101 lessons: how to share your faith simply, effectively, biblically-the way Jesus did (pp. 209-210). Gainesville, FL: Bridge-Logos Publishers.
Day by Day by Grace
Once More on Continuing in the Word of His Grace
I commend you to God and to the word of His grace, which is able...All Scripture is given by inspiration of God, and is profitable for doctrine, for reproof, for correction, for instruction in righteousness, that the man of God may be complete, thoroughly equipped for every good work. (Acts 20:32 and 2 Timothy 3:16-17)
God's word (which is "the word of His grace") is characterized by heavenly ability: "which is able...and is profitable for." By God's grace at work, the Scriptures take us into the wholeness that is ours in Christ, as well as fully equip us for service unto Christ.
All of the word of God's grace is divinely inspired. "All Scripture is given by inspiration of God." Although written through human instruments, the Bible message is what God wanted to say. Therefore, the word is able to bring great spiritual profit into our lives: "and is profitable for doctrine, for reproof, for correction, for instruction in righteousness." God's word "is profitable for doctrine." The teaching ministry of the word reveals to us the path of godliness. "Your word is a lamp to my feet And a light to my path" (Psalm 119:105). Also, God's word "is profitable for... reproof." The admonishing ministry of the word tells us when we are drifting from God's path. "Now all these things happened to them as examples, and they were written for our admonition" (1 Corinthians 10:11). Further, God's word "is profitable for... correction." The restoring ministry of the word calls us back to the straight and narrow path of godliness. "Let the wicked forsake his way, and the unrighteous man his thoughts; let him return to the LORD, and He will have mercy on him; and to our God, for He will abundantly pardon" (Isaiah 55:7). Finally, God's word "is profitable for... instruction in righteousness." The transforming ministry of the word moves us on down the path of Christlikeness. "But we all, with unveiled face, beholding as in a mirror [the mirror of the word] the glory of the Lord, are being transformed into the same image from glory to glory" (2 Corinthians 3:18).
As we allow God's word to carry on this profitable, four-fold process, His grace is bringing us into a greater experience of the wholeness that is available to us in Christ: "that the man of God may be complete." Additionally, this process is fully preparing us to serve the Lord in any manner that He desires: "thoroughly equipped for every good work."
Dear Lord, I need the word of Your grace at work in my life daily. Please impact my life by the supernatural ability of Your word. Teach me, reprove me, correct me, and instruct me in righteousness that I might walk in Your wholeness and serve for Your glory, Amen.
Famous Last Words: John Milton
(1608-1674) ranks with Shakespeare and Wordsworth as one of the three greatest poets of England. His famous Paradise Lost enshrines in stately verse the general scheme of Puritan theology. Because of the God-ward aspect of his life, we can appreciate his farewell saying:
"Death is the great key that opens the palace of Eternity."

Here at Promise Land Bible Church
We don't change the message, the message changes us.


Here at Promise Land Bible Church, we are honored that you are visiting our web site at www.plbcmh.com
It is our hope at Promise Land Bible Church that you will be encouraged by the preaching and teaching of God's Word presented here. For it is our desire to teach the whole council of God, so that the body can be edified and above all that God may be glorified.
For it is our passion and desire to share the Gospel message with everyone who will hear, in obedience to God's word.
Welcome to our site here at www.plbcmh.com
The fellowship of believers who call Promise Land Bible Church home would like to welcome you to our website. We believe that salvation is by grace alone, thru faith alone, in Christ alone, and that the Holy Scripture is our sole source of authority for what we do and how we live, and that everything we do, should be done for the glory of God. This is commonly called the 5 Solas of the Reformed Faith.
So here is our invitation to you;
If you are looking for a church that affirms the sole authority of the Holy Scriptures for all of faith and practice, the pre-eminence of the preaching of the Word of God, the glorious truths of salvation called the Doctrines of Grace, the necessity and responsibility of evangelism and a serious approach to the joyful worship of God, then we warmly invite you to come and visit us.
Join us as we look to the truth of scripture and Worship the Lord.
At www.plbcmh.com we do our best to present the truth of the gospel.
This God is mine, in all His glorious perfection!

(Archibald Brown, "This God Is Our God!" 1896)

"The LORD's portion is His people!" Deuteronomy 32:9

"The LORD is my portion," says my soul, "Therefore I hope in Him!" Lamentations 3:24

The above two passages of Scripture ought never to be separated.

God and my soul possess each other.
God finds his portion in His people--and His people find their portion in God!

This God is mine, in all His glorious perfection!
His heart is mine, for He loves me.
His ear is mine, for I may pour into it all my tales of sorrow, and all my songs of joy.
His eyes are mine, for they watch me from morning until night.
His hand is mine, for it is stretched out to uphold me.

Oh, He is a God of infinite glory! Abased in the very dust, and half bewildered by the thought, I yet dare to look up and say, "This God is my God forever and ever! He will be my guide even unto death!"
Point to Ponder
Christians often find themselves in a dilemma when it comes to explaining the things of God to a sinner. It is like trying to explain color to a man who has been born blind. Think of such a situation. You say to a blind man, "What a lovely blue sky," to which he asks, "What is 'blue' like?" What can you tell him? Nothing can explain what color is like to a man who has never seen light.
The same applies to those who are blind to the things of God. The Bible says that the god of this world has blinded their minds (2 Corinthians 4:4). If they are not born of the Spirit, they cannot receive the things of the Spirit of God (1 Corinthians 2:14). Scripture also tells us that unless they are born again, they cannot see the kingdom of God (John 3:3). This is why we must be both gentle and prayerful.


Word of the Day
December 6
Rock
petra
In Classical Greek, petra (G4073) refers to a large rock, such as a boulder, cliff, bedrock, or even a mountain chain. It (with petros, G4074, a smaller stone that a man can throw) is, of course, where we get English words such as petrify (turning organic matter into rock) and petroleum (oil that comes from the earth or even from rock, as in the case of oil shale). It also carries the figurative meaning, as Homer used it in his Odyssey, of firmness and immovability of character. Aeschylus and Euripides also used it to denote hardheartedness.
Similarly, while petra is not used often in the Septuagint, when it does appear, it has the following meanings: a literal rock or cliff (Exo_17:6; Num_20:8), a figurative name for the Messiah (Isa_8:14), unbending character (Isa_50:7), a hardened heart (Jer_5:3), and a name for God (2Sa_22:2).
Undoubtedly, the most outstanding NT appearance of petra is Mat_16:18, where our Lord declares to Peter, "Thou art Peter, and upon this rock I will build my church; and the gates of hell shall not prevail against it." While this verse has been twisted by Roman Catholic dogma into a theology of error, this is a simple play on words. Our Lord is clearly saying that He will build His church, not on Peter (whose name is Petros, a throwable stone), as Catholicism teaches, but on Himself, Who is the large rock, the bedrock, the foundation stone (cf. cornerstone, see July 9). He then adds that it's because of that foundation that nothing will ever "prevail against" (katischuō, G2729, "overcome, overpower, vanquish") His church.
A wonderful passage that also contains petra is Mat_7:24-25, where our Lord again speaks: "Whosoever heareth these sayings of mine, and doeth them, I will liken him unto a wise man, which built his house upon a rock. And the rain descended, and the floods came, and the winds blew, and beat upon that house; and it fell not; for it was founded upon a rock." We live in a day of shifting sand (see Mat_7:26-27), where "truth" is constantly changing and is supposedly different for each person. Those who build on that will see their "house" fall. But when we build on the truth (see February 1-3) of God's Word, we will stand forever.
Scriptures for Study: Read the following verses, noting the use of petra in each: Rom_9:33; 1Co_10:4; 1Pe_2:8.
Thanks for visiting our site here at www.plbcmh.com