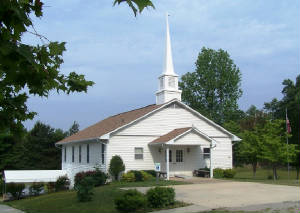 Come and Worship with us at
8256 Promise Land Road
Mountain Home, Arkansas 72653
Our Worship Schedule is
Sunday Bible Study - 9:45am
Sunday Worship - 11:00am
Wednesday Night Prayer Meeting - 6:00pm
Wednesday Night Bible Study - 7:00pm
Today's Memory Verse
"Love not the world, neither the things that are in the world. If any man love the world, the love of the Father is not in him."
1 JOHN 2:15

"I would think it a greater happiness to gain one soul to Christ than mountains of silver and gold to myself."
MATTHEW HENRY

"I have broken the Ten Commandments, but I do good things for people."

Many people do similar things. They may steal from their employer or cheat on their taxes, then give to a charity or spend Thanksgiving helping at a soup kitchen. They think they are balancing the scales: they have done bad, and now they are doing good. However, the Bible reveals that the motive of guilty sinners is one of guilt (see Hebrews 9:14). They are attempting to bribe the Judge of the Universe. The Judge in this case will not be corrupted. He must punish all sinners. Good works cannot earn mercy; it comes purely by the grace of God. He will dismiss our iniquity only on the grounds of our faith in Jesus.

Cameron, K., & Comfort, R. (2004). The school of biblical evangelism: 101 lessons: how to share your faith simply, effectively, biblically-the way Jesus did (p. 96). Gainesville, FL: Bridge-Logos Publishers.
Point to Ponder
Years ago, Southern California police carried out an interesting sting operation. They had a list of thousands of wanted criminals who had somehow evaded jail. Instead of risking their lives by attempting to arrest each one, they sent all the criminals a letter telling them they had won a large amount of money in a drawing.
The police put signs and banners on a building, and placed balloons and even a clown on the outside to create a festive atmosphere in order to welcome the "winners." As each criminal entered the building, he heard music and other sounds of celebration. He was then ushered into a room where he smiled as his hand was shaken. The facial expression changed from joy to unbelief as each was told, "Congratulations, you have just won time in prison!" Dozens of criminals made their way through the main doors, were arrested and ushered out the back door.
It was interesting to note that many of the lawbreakers admitted as they were apprehended, "I thought it was a sting operation!" but they couldn't stay away because of their greed. Their love of money blinded them to reason. Don't be like them. Think deeply about the issue of eternity, asking yourself, "What shall it profit a man if he shall gain the whole world and lose his own soul?"


Day by Day by Grace
The Crucial Choice: Flesh or Spirit
Those who live according to the flesh set their minds on the things of the flesh, but those who live according to the Spirit, the things of the Spirit. For to be carnally minded is death, but to be spiritually minded is life and peace. (Romans 8:5-6)
The crucial choice that believers in Christ face day by day is between living by the flesh or living by the Spirit. The difference is facing life by our resources and perspectives or by God's resources and perspectives. "Those who live according to the flesh set their minds on the things of the flesh, but those who live according to the Spirit, the things of the Spirit." When a Christian deals with life by his flesh, he typically thinks about "what I want out of my life" or "what I can accomplish with my life." Conversely, when a Christian deals with life by the Spirit, he typically thinks about "what God wants for my life" or "what God can accomplish through my life."
The consequences related to this choice are monumental. "For to be carnally minded is death, but to be spiritually minded is life and peace." When a believer allows his mind to be set in a carnal direction, he will be thinking about worldly self-indulgence ("what I can get out of this") or religious self-accomplishment ("what I can do for God"). The result of either carnal perspective is "death" (spiritual deadness). On the other hand, when a follower of Jesus sets his mind on heavenly matters, he will be considering issues of humility ("how much I need the Lord") or faith ("how great the Lord is"). The results of such spiritual thoughts are "life and peace" (spiritual vitality and spiritual tranquility).
Another analysis of these two options can be seen in the contrast between the "works of the flesh" and the "fruit of the Spirit." When we put our hope in our own capabilities, our flesh produces deeds such as "adultery, fornication, uncleanness, licentiousness, idolatry, sorcery, hatred, contentions, jealousies, outbursts of wrath, selfish ambitions, dissensions, heresies, envy, murders, drunkenness, revelries, and the like" (Galatians 5:19-21). Contrariwise, when we place our expectations upon the Lord, His Spirit brings forth through us fruit like "love, joy, peace, longsuffering, kindness, goodness, faithfulness, gentleness, self-control" (Galatians 5:22-23).
Consider this fundamental truth. These "flesh-Spirit" choices are what all of us will face every day of our lives. The persistency of these issues is inherent in the fact that God offers only two options for every issue of life; namely, "live according to the flesh" or "live according to the Spirit."
O Sovereign Lord, I bow to Your wisdom and authority that offer these two choices alone. Lord, I renounce the natural path of my flesh which brings severe, but deserved, consequences. I gladly embrace the supernatural path of Your Spirit, which brings the undeserved results of Your grace at work in me, Amen.
Here at Promise Land Bible Church
We don't change the message, the message changes us.


Here at Promise Land Bible Church, we are honored that you are visiting our web site at www.plbcmh.com
It is our hope at Promise Land Bible Church that you will be encouraged by the preaching and teaching of God's Word presented here. For it is our desire to teach the whole council of God, so that the body can be edified and above all that God may be glorified.
For it is our passion and desire to share the Gospel message with everyone who will hear, in obedience to God's word.
Welcome to our site here at www.plbcmh.com
The fellowship of believers who call Promise Land Bible Church home would like to welcome you to our website. We believe that salvation is by grace alone, thru faith alone, in Christ alone, and that the Holy Scripture is our sole source of authority for what we do and how we live, and that everything we do, should be done for the glory of God. This is commonly called the 5 Solas of the Reformed Faith.
So here is our invitation to you;
If you are looking for a church that affirms the sole authority of the Holy Scriptures for all of faith and practice, the pre-eminence of the preaching of the Word of God, the glorious truths of salvation called the Doctrines of Grace, the necessity and responsibility of evangelism and a serious approach to the joyful worship of God, then we warmly invite you to come and visit us.
Join us as we look to the truth of scripture and Worship the Lord.
At www.plbcmh.com we do our best to present the truth of the gospel.
What! the whole of it meaningless?

(Charles Spurgeon)

"Behold, all is vanity!" Ecclesiastes 1:14

Nothing can fully satisfy a person, but the Lord's love and the Lord's own self. Saints have tried other pursuits, but they have been driven out of such foolish and fatal refuges.

Solomon, the wisest of men, was permitted to make experiments for us all, and to do for us what we must not dare to do for ourselves. Here is his testimony in his own words: "So I became greater by far than anyone in Jerusalem before me. I denied myself nothing my eyes desired; I refused my heart no pleasure. Yet when I surveyed all that my hands had done and what I had toiled to achieve, everything was meaningless, a chasing after the wind! Nothing was gained under the sun!" "Meaningless! Meaningless!" says the Teacher. "Utterly meaningless! Everything is meaningless."

What! the whole of it meaningless? O favored monarch, is there nothing in all your wealth? Nothing in your wide dominion reaching even to the sea? Nothing in your glorious palaces? In all your music and dancing, and wine and luxury--is there nothing?
"Nothing!" he says, "but a chasing after the wind!"
This was his final verdict, when he had trodden the whole round of pleasure.

To embrace our Lord Jesus, to dwell in His love, and be fully assured of union with Him--this is all in all.

Dear reader, you need not try other forms of pleasure in order to see whether they are better than the Christian's. If you roam the world around, you will see no sights like a sight of the Savior's face! If you could have all the comforts of life, but lost your Savior--you would be most wretched. But if you possess Christ, though you should rot in a dungeon--you would find it a paradise! Though you should live in obscurity, or die with famine--yet you would be satisfied with the favor and goodness of the Lord!

"But whatever was to my profit I now consider loss for the sake of Christ. What is more, I consider everything a loss compared to the surpassing greatness of knowing Christ Jesus my Lord, for whose sake I have lost all things. I consider them rubbish, that I may gain Christ!" Philippians 3:7-8
Word of the Day
February 28
Power (1)
dunamis
As we saw yesterday, Eph_1:19 uses several words to describe God's power: "the exceeding greatness of his power to us-ward who believe, according to the working of his mighty power." He heaps one word upon another to express that truth.
The first occurrence of the word power is dunamis (G1411), from which are derived English words such as dynamic and dynamite. Used over 100 times in the NT, it speaks of inherent or raw power, the ability to do wonders, and that which overcomes any resistance.
There are many incredibly powerful explosives in our day, such as C-4, Petin, and many others that can overcome virtually any obstacle. One of the men in my church was in the military for many years and one day shared with me a humorous, tongue-in-cheek saying heard around explosives specialists: "There is no problem so insurmountable that it cannot be solved by the proper application of high explosives." Likewise, while explosives didn't exist in ancient times and so Paul is obviously not thinking such things, he is telling us that we have at our disposal a power that can overcome any obstruction to our Christian walk.
Now let us realize that this power is "toward us who believe." Does this mean that God wants us to have this kind of power within? Yes! Paul's prayer is that we will know God's power by experience. Are you getting the picture? We have no excuse for living in mediocrity or defeat, no excuse for living in a life of ups and downs, for this violates the very power we've been given.
As Paul wrote Timothy, for example, "For God hath not given us the spirit of fear; but of power, and of love, and of a sound mind" (2Ti_1:7). Like many Christians, "Timid Timothy" had a tendency to be fearful in witnessing, but Paul promises that God gives the believer power to overcome such obstacles.
Scriptures for Study: In Act_1:8, what does the Holy Spirit's power enable you to do? What is the power of God in 1Co_1:18?
Famous Last Words: Anne Boleyn
(1507-1536), second wife of Henry VIII:
"O God, have pity on my soul. O God, have pity on my soul."

Thanks for visiting our site here at www.plbcmh.com