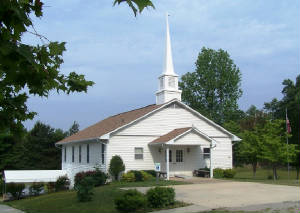 Come and Worship with us at
8256 Promise Land Road
Mountain Home, Arkansas 72653
Our Worship Schedule is
Sunday Bible Study - 9:45am
Sunday Worship - 11:00am
Wednesday Night Prayer Meeting - 6:00pm
Wednesday Night Bible Study - 7:00pm
Today's Memory Verse
"The times of this ignorance God winked at; but now commands all men every where to repent: because he has appointed a day, in the which he will judge the world in righteousness ..."
ACTS 17:30, 31

"I believe in Christianity as I believe that the sun has risen: not only because I see it, but because by it I see everything else."
C. S. LEWIS

"Man is the master of his own destiny!"

If man is in total control of his future, then he should at least be in control of his own body. Instead, he is subject to involuntary yawning, sneezing, breathing, swallowing, sleeping, salivating, dreaming, blinking, and thinking. He can't even control hair and nail growth. He automatically does these things, irrespective of his will. God has set his body in motion and there is little he can do about it. He also has minimal control over his daily bodily functions. His kidneys, bladder, intestines, heart, liver, lungs, etc., work independently of his will. It is ludicrous to say that man controls his future when he has trouble predicting the stock market, political outcomes, earthquakes, and even the weather, let alone having control over these things.

Cameron, K., & Comfort, R. (2004). The school of biblical evangelism: 101 lessons: how to share your faith simply, effectively, biblically-the way Jesus did (p. 477). Gainesville, FL: Bridge-Logos Publishers.
Point to Ponder

A child finds that he has an insatiable appetite for chocolate. At the same time he notices that his face has broken out with ugly sores. Every time he looks in the mirror he sees a sight that makes him depressed. However, instead of giving up his beloved chocolate, he consoles himself by stuffing more into his mouth. Yet, the source of his pleasure is actually the cause of his suffering.
The whole face of the earth reveals the ugly sores of suffering. Everywhere we look we see unspeakable pain. But instead of believing God's explanation and asking Him to forgive us and change our appetite, we run deeper into sin's sweet embrace. There we find solace in its temporal pleasures, thus intensifying our pain, both in this life and in the life to come.


Day by Day by Grace
Promises Based on the Will of God
Come now, you who say, "Today or tomorrow we will go to such and such a city, spend a year there, buy and sell, and make a profit"; whereas you do not know what will happen tomorrow. For what is your life? It is even a vapor that appears for a little time and then vanishes away. Instead you ought to say, "If the Lord wills, we shall live and do this or that." (James 4:13-15)
Promises based on the will of God is another category of acceptable promises. People are frequently heard making predictive promises. "I will be a more faithful husband next year." "I will get better grades in school this semester." "I will not repeat my personal failures of last year." "I will improve my business this quarter." Such promises are only acceptable to God, if they are made contingent upon the will of God. Instead, we ought to say, "If the Lord wills, we shall live and do this or that."
The will of God is to be the determining factor for all of our plans. God used James to reprimand the self-willed life. "Come now, you who say, 'Today or tomorrow we will go to such and such a city, spend a year there, buy and sell, and make a profit'." Such promises indicate the arrogance that people can embrace within their lives. "But now you boast in your arrogance" (James 4:16). Such arrogance prohibits us from living by grace, because grace is imparted to the humble heart. "Be clothed with humility, for 'God resists the proud, but gives grace to the humble'" (1 Peter 5:5).
David was a notable example of one who humbly yielded to, and sought after, the will of God. "I delight to do Your will, O my God...Teach me to do Your will, for You are my God" (Psalm 40:8; 143:10). Paul's comprehensive commitment to God's will could be seen even in the way he stated predictive promises about his personal travel plans. As he left Ephesus, he stated,"I will return again to you, God willing" (Acts 18:21). When writing to Corinth, he promised "I will come to you shortly, if the Lord wills" (1 Corinthians 4:19).
Ultimately, the Lord Jesus Christ taught and lived with His Father's will as the absolute standard. Concerning how we should pray, He taught, "In this manner, therefore, pray: Our Father in heaven...Your kingdom come. Your will be done on earth as it is in heaven" (Matthew 6:9-10). He Himself prayed in this way. "O My Father, if it is possible, let this cup pass from Me; nevertheless, not as I will, but as You will" (Matthew 26:39).
Dear Father, I seek You for a heart that is fully committed to Your will. May I delight in Your will each day. May I speak of future days only in terms of Your will-"If it is Your will, I shall live and do this or that."
Famous Last Words: David Livingstone
(1813-1873), a Scottish missionary who spent over thirty years in Africa, mostly in unexplored country, was the one who discovered the Victoria Falls. Shortly before he died, he said to his servants:
"Build me a hut to die in. I'm going home."

He died as he knelt at his bedside. His heart was removed and buried in the Africa he gave his life for, and his body was preserved in salt and carried by affectionate natives to the coast over one thousand miles away and ultimately buried with honors in Westminster Abbey.
Here at Promise Land Bible Church
We don't change the message, the message changes us.


Here at Promise Land Bible Church, we are honored that you are visiting our web site at www.plbcmh.com
It is our hope at Promise Land Bible Church that you will be encouraged by the preaching and teaching of God's Word presented here. For it is our desire to teach the whole council of God, so that the body can be edified and above all that God may be glorified.
For it is our passion and desire to share the Gospel message with everyone who will hear, in obedience to God's word.
Welcome to our site here at www.plbcmh.com
The fellowship of believers who call Promise Land Bible Church home would like to welcome you to our website. We believe that salvation is by grace alone, thru faith alone, in Christ alone, and that the Holy Scripture is our sole source of authority for what we do and how we live, and that everything we do, should be done for the glory of God. This is commonly called the 5 Solas of the Reformed Faith.
So here is our invitation to you;
If you are looking for a church that affirms the sole authority of the Holy Scriptures for all of faith and practice, the pre-eminence of the preaching of the Word of God, the glorious truths of salvation called the Doctrines of Grace, the necessity and responsibility of evangelism and a serious approach to the joyful worship of God, then we warmly invite you to come and visit us.
Join us as we look to the truth of scripture and Worship the Lord.
At www.plbcmh.com we do our best to present the truth of the gospel.
Today's Grace Gem
He will go on sinning and suffering forever!

(Jared Waterbury, "Meditations and Prayers" 1840)

"Do not be deceived: God is not mocked, for whatever one sows, that will he also reap. For the one who sows to the flesh, will from the flesh reap corruption; but the one who sows to the Spirit, will from the Spirit reap eternal life." Galatians 6:7-8

"He who is unjust--let him be unjust still;
he who is filthy--let him be filthy still.
He who is righteous--let him be righteous still;
he who is holy--let him be holy still." Revelation 22:11

How solemn is the thought that at death not only will the soul meet its final destiny--but that destiny will be irreversible. Then must we appear before our holy and righteous Judge without disguise. He who has "sowed to the flesh"--will then reap his dread reward of eternal condemnation. The one who sows to the Spirit, will reap eternal life.

The holy will exult in the approach of their inflexibly holy Judge.
The wicked, trembling with horror, will "call upon the rocks and the mountains to fall upon them!"

Yes, the true believer will rejoice that his full redemption from sin is drawing near. Weak as may have been the principle of holiness within him--he is sure that when his Savior comes, it will be both increased and perpetuated. All will then be purity. No clouds will come between him and his adorable Redeemer.

What child of God can look at the happiness and purity of Heaven, and not long to experience them? What but sin embitters his life, and makes his pilgrimage a weary way? Should he not then rejoice when this hateful and polluting thing shall be gone forever?

But while the godly man has reason to rejoice--the wicked may well be alarmed. O, what an appalling prospect! Filthy, and still more filthy, through eternity! His eternity must not only be wretched--but increasingly wretched. He will go on sinning and suffering forever! In Hell there will be no change but from bad to worse, and from suffering to still deeper anguish.

"They were seared by the intense heat and they cursed the name of God, who had control over these plagues--but they refused to repent and glorify Him." Revelation 16:9
Word of the Day
June 24
Baptize (1)
baptizō
Few subjects invoke more controversy than baptism, but such controversy is both sad and unnecessary. As is true of most doctrines, the word itself makes the meaning clear. Baptize directly transliterates baptizō (G907), which means to "immerse; place into." The verb baptō (G911) originally referred to dipping clothes into dye or drawing water by placing the container into the water.
One of the earliest heresies to enter the church was "Baptismal Regeneration," the idea that baptism is part of salvation. Tertullian (c. 160-c. 220) was one of the earliest church fathers to teach it, and Roman Catholicism has always held it. Incredulously, even some Protestant churches teach this, which is especially contradictory because it is one of the doctrines they should be protesting! Zacchaeus (Luk_19:9), the thief on the cross (Luk_23:42-43), new believers at Pentecost (Act_2:41), Paul (Act_9:17-18), and Cornelius (Act_10:47) all were declared saved before baptism. Salvation is by grace alone. Any other "gospel" is not the Gospel (Gal_1:6-9).
Baptism has always signified identification and public testimony. The Jews used it that way; a proselyte into Judaism had to be circumcised, offer a sacrifice, and baptize himself in the presence of a rabbi to identify himself with Judaism. John the Baptist's baptism was for the purpose of identifying people with his message of the coming Christ. Christian baptism, therefore, is an identification with the death, burial, and resurrection of Christ and a public testimony that we are following Him. Even our Lord submitted to this as a picture of His future and to be our example (Mat_4:13-17).
There's also controversy over the mode of baptism, but to argue for sprinkling or pouring is pointless if not downright silly. Baptizō is self-evident. Who would try dying a garment by sprinkling dye on it? I read of a Greek sea captain who after his ship was torpedoed radioed this mayday: "Baptizō! Baptizō!" (literally, "I'm sinking! I'm sinking!"). It's historical fact that the early church practiced only immersion and that other modes did not arise until about the third century and were not widely practiced until the twelfth. Those different modes simply have no biblical precedent.
Baptism by immersion is among the first steps of obedience in following Christ, which is made crystal clear in the book of Acts. If you haven't taken that step, I encourage you to talk to your pastor about doing so.
Scriptures for Study: Read Act_2:22-47. What was the theme of Peter's sermon? What was the people's response? How many were saved and baptized?
Thanks for visiting our site here at www.plbcmh.com