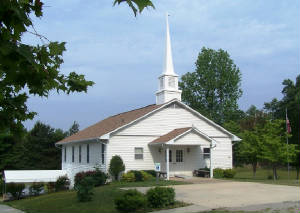 Come and Worship with us at
8256 Promise Land Road
Mountain Home, Arkansas 72653
Our Worship Schedule is
Sunday Bible Study - 9:45am
Sunday Worship - 11:00am
Wednesday Night Prayer Meeting - 6:00pm
Wednesday Night Bible Study - 7:00pm
Today's Memory Verse
"Fear not; for I am with you: be not dismayed; for I am your God: I will strengthen you; yes, I will help you; yes, I will uphold you with the right hand of my righteousness."
ISAIAH 41:10

"We fear men so much, because we fear God so little. One fear causes another. When man's terror scares you, turn your thoughts to the wrath of God."
WILLIAM GURNALL

"Christianity is boring."

Then you haven't experienced it. No one who is a Christian will ever say that it is boring; it is an adventure. There are millions of people who have a lot of fun being Christian. What do you think we do all day, sit around fireplaces and read Bibles? We ski, swim, play sports, read, and spend time with friends like anybody else. We just do it with a lot less sin, and therefore a lot less problems. Maybe it's only your problems that keep you from getting bored.

Cameron, K., & Comfort, R. (2004). The school of biblical evangelism: 101 lessons: how to share your faith simply, effectively, biblically-the way Jesus did (p. 173). Gainesville, FL: Bridge-Logos Publishers.
Point to Ponder

"Mr. Thorpe was a member of an 'infidel' club. Among their amusements was that of holding imitations of religious services, and exhibiting mimicries of popular ministers. Thorpe went to hear George Whitefield preach, that he might caricature him before his profane associates. He listened to Whitefield so carefully that he caught his tones and his manner, and somewhat of his doctrines.
"When the club met to see his caricature of Whitefield, Thorpe opened the Bible that he might take a text to preach from it after the manner of Whitefield. His eye fell on the passage, "Except you repent, you shall all likewise perish." As he spoke upon that text he was carried beyond himself, lost all thought of mockery, spoke as one in earnest, and was the means of his own conversion! He was carried by the force of truth beyond his own intention, like one who would play in a river, and is swept away by its current.
"Even the scoffer may be reached by the arrows of truth! Scripture has often been the sole means in the hands of its divine Author of converting the soul."

Excerpted from Charles Spurgeon's sermon #950, "Means for Restoring the Banished."


Day by Day by Grace
A Precious Promise of God's Provision
By which have been given to us exceedingly great and precious promises...And my God shall supply all your need according to His riches in glory by Christ Jesus. (2 Peter 1:4 and Philippians 4:19)
In recent meditations, we have looked at two differing categories of promises: "exceedingly great and precious promises" and "unpopular" promises. Both play a vital role in God's plan. The first category of promises brings encouragement, comfort, and hope. The second category warns, convicts, and awakens. Both types are equally certain of fulfillment. Both types are to be heeded and embraced. For awhile now, let's alternately consider promises from these two categories.
Our present verses contain a promise of the first type. "And my God shall supply all your need according to His riches in glory by Christ Jesus." The context of this promise concerns material provisions. "Now you Philippians know...no church shared with me concerning giving and receiving but you only. For even in Thessalonica you sent aid once and again for my necessities" (Philippians 4:15-16). The saints at the church in Philippi regularly gave of their financial resources that the Apostle Paul might concentrate on ministering the gospel. "Indeed I have all and abound. I am full, having received from Epaphroditus the things which were sent from you, a sweet-smelling aroma, an acceptable sacrifice, well pleasing to God" (Philippians 4:18). Paul was abundantly supplied through their gifts. This generosity was also a pleasing spiritual sacrifice in the eyes of the Lord.
As He did with Paul, the Lord promises to meet the physical needs of all of His children. We can rely on His promised care for us. We do not need to worry or fret. "Do not worry, saying, 'What shall we eat?' or 'What shall we drink?' or 'What shall we wear?' For after all these things the Gentiles seek. For your heavenly Father knows that you need all these things" (Matthew 6:31-32). Our faithful and loving Father is fully aware of our material needs, and He has committed Himself to supplying them. "But seek first the kingdom of God and His righteousness, and all these things shall be added to you" (Matthew 6:33). Our heavenly Father wants us to give our attention to seeking after Him, not after our needs. He wants us to be on a quest to know Him. He desires that we seek after His holy rule and His righteous ways. He will be faithful to "supply all your need according to His riches in glory by Christ Jesus." He may typically use a paycheck to fulfill His promise, but He will supply our needs. Even if we are flat on our backs and unable to work, God is our faithful source.
Dear heavenly Father, I thank You for Your faithfulness in supplying my material needs through the years. Forgive me for doubting You at times, when it looked like the provision was not coming. Help me to seek You and not my needs, Amen.
Here at Promise Land Bible Church
We don't change the message, the message changes us.


Here at Promise Land Bible Church, we are honored that you are visiting our web site at www.plbcmh.com
It is our hope at Promise Land Bible Church that you will be encouraged by the preaching and teaching of God's Word presented here. For it is our desire to teach the whole council of God, so that the body can be edified and above all that God may be glorified.
For it is our passion and desire to share the Gospel message with everyone who will hear, in obedience to God's word.
Welcome to our site here at www.plbcmh.com
The fellowship of believers who call Promise Land Bible Church home would like to welcome you to our website. We believe that salvation is by grace alone, thru faith alone, in Christ alone, and that the Holy Scripture is our sole source of authority for what we do and how we live, and that everything we do, should be done for the glory of God. This is commonly called the 5 Solas of the Reformed Faith.
So here is our invitation to you;
If you are looking for a church that affirms the sole authority of the Holy Scriptures for all of faith and practice, the pre-eminence of the preaching of the Word of God, the glorious truths of salvation called the Doctrines of Grace, the necessity and responsibility of evangelism and a serious approach to the joyful worship of God, then we warmly invite you to come and visit us.
Join us as we look to the truth of scripture and Worship the Lord.
At www.plbcmh.com we do our best to present the truth of the gospel.
Today's Grace Gem
That soul never perished, that felt itself to be vile, and Jesus to be precious!

(Octavius Winslow)

What are YOU to yourself? Worthless? Vile? Empty?

What is JESUS to you? Precious? Lovely? All your salvation? All your desire?

What is SIN to you? The most hateful thing in the world?

What is HOLINESS to you? Most desired? Most longed for?

What is the THRONE OF GRACE to you? The most attractive spot?

What is the CROSS to you? The sweetest resting place in the universe?

What is GOD to you? Your God? Your Father? The spring of all your joys? The fountainhead of all your bliss? The center where your affections meet?

Is it so? Then you are a child of God! Those low views of yourself--that brokenness, that inward mourning, that secret confession; that longing for more spirituality, more grace, more devotedness, more love--does but prove the existence, reality, and growth of God's work within you.

Cheer up, precious soul! That soul never perished, that felt itself to be vile, and Jesus to be precious!
Word of the Day
August 19
Fruit (1)
karpos
As we discovered yesterday, karpos not only speaks of the fruit produced by plants, but it dictates that such fruit is automatic because it is the nature of the plant to bear it. The same is true of the true Christian. A true believer will bear fruit. This is, in fact, an undeniable proof that a person is a Christian. But what constitutes fruit in the Christian life? The NT declares that there are no less than five types of fruit, which we'll examine in the next few days.
First, the fruit of the Christian life most often mentioned by Bible teachers is that of witnessing for Christ. Some Christians think that the only way we bear fruit is by winning converts to Christ. But not only are there other types of fruit, but it's also not just winning someone to Christ that makes us fruitful; but rather, we are also being fruitful when we are simply witnessing, whether someone believes or not.
We do see the idea that converts are fruit, for example, in Rom_1:13, where Paul writes, "Oftentimes I purposed to come unto you . . . that I might have some fruit among you also, even as among other Gentiles." That clearly implies people believing in Christ. He also mentions "the firstfruits of Achaia" (1Co_16:15), which pictures converts. The Lord Jesus also spoke of the "harvest" (Joh_4:35), which obviously implies reaping. But in the verses that follow, He also adds, "He that soweth and he that reapeth may rejoice together. And herein is that saying true, One soweth, and another reapeth." Jesus also compared evangelism to catching fish in Mar_1:17, but as every fisherman knows, even though you don't catch fish every time you go out, you're still a fisherman.
This principle is extremely important because it's very easy to become success-motivated in evangelism. High-pressure techniques, "easy-believeism," " seeker-sensitivity," and other abuses have all been used to "get results" and make it appear that we are "successful," but they have also generated a lot of pride. In contrast, God has commanded us to go forth and be witnesses (Act_1:8), whether or not we see converts. God blesses faithfulness, not results, because He is in charge of the results (1Co_3:4-10). We can be assured, then, that we are bearing fruit as we witness for Christ.
Scriptures for Study: Read 1Co_3:4-10, noting who is in charge of witnessing and who is in charge of winning.
Famous Last Words: David Hume
(1711-1776), Scottish philosopher and historian, who on being told by his doctor that he was a little better, said:
"Doctor, as I believe you would not choose to tell anything but the truth, you had better say that I am dying as fast as my enemies, if I have any, could wish, and as easily and cheerfully as my best friends could desire."

Thanks for visiting our site here at www.plbcmh.com