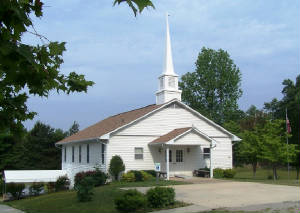 Come and Worship with us at
8256 Promise Land Road
Mountain Home, Arkansas 72653
Our Worship Schedule is
Sunday Bible Study - 9:45am
Sunday Worship - 11:00am
Wednesday Night Prayer Meeting - 6:00pm
Wednesday Night Bible Study - 7:00pm
Today's Memory Verse
"Therefore being justified by faith, we have peace with God through our Lord Jesus Christ: by whom also we have access by faith into this grace wherein we stand, and rejoice in hope of the glory of God."
ROMANS 5:1, 2

"How should I witness to someone who belongs to a denomination, who I suspect isn't trusting the Savior?"

The most effective way to speak about the issues of eternity to a religious person is not to get sidetracked from the essentials of salvation. Upon hearing a person's background, we may feel an obligation to speak to issues such as infant baptism, transubstantiation, etc. However, it is wise rather to build on the points of agreement between the Bible and the person's denomination, such as the virgin birth, the cross, and so on.
One point of agreement will almost certainly be the Ten Commandments. They are the key to bringing any religious person to a saving knowledge of the gospel. After someone is converted to Jesus Christ, the Bible will come alive and he will be led into all truth by the indwelling Holy Spirit. God's Word will then give him light, and he will forsake religious tradition as he is led by God.
While there are strong biblical arguments that may convince unregenerate people that their church's traditions contradict Holy Scripture, there is a difficulty. Some religious people hold the teachings of their church to be on a par with, or of greater authority than, Holy Scripture. It is therefore often futile to try to convince them intellectually that their trust should be in the person of Jesus Christ, rather than in their own righteousness or in their church traditions. For this reason we should aim at the conscience, rather than the intellect. Take sinners through the Law of God (the Commandments) to show them that they are condemned despite their works, and strongly emphasize that we are saved by grace, and grace alone, rather than by trusting in our own righteousness or religious traditions.
If they are open to the gospel, and are interested in what God's Word says in reference to their church's teachings, they will listen to Scripture. For example, in Matthew 8:14 we see that Peter (whom the Roman Catholic church maintains was the first pope) was married, as were many of the other apostles (see 1 Corinthians 9:5).

Cameron, K., & Comfort, R. (2004). The school of biblical evangelism: 101 lessons: how to share your faith simply, effectively, biblically-the way Jesus did (pp. 602-603). Gainesville, FL: Bridge-Logos Publishers.
Day by Day by Grace
Given Ministry by the Grace of God
Of which I became a minister according to the gift of the grace of God given to me by the effective working of His power. To me, who am less than the least of all the saints, this grace was given, that I should preach among the Gentiles the unsearchable riches of Christ. (Ephesians 3:7-8)
As we have seen, "give" is the language of grace. "I thank my God always concerning you for the grace of God which was given to you by Christ Jesus" (1 Corinthians 1:4). Our heavenly Father wants to give us all the blessings of His kingdom as a gift of His grace. "Do not fear, little flock, for it is your Father's good pleasure to give you the kingdom" (Luke 12:32). No wonder then that we are given ministry by the grace of God.
The Apostle Paul had a special stewardship entrusted to Him by God's grace. "If indeed you have heard of the dispensation of the grace of God which was given to me for you" (Ephesians 3:2). This special calling given to him by God concerned the miracle of Jew and Gentile being made one in Christ (as the body of Christ): "that the Gentiles should be fellow heirs, of the same body, and partakers of His promise in Christ through the gospel" (Ephesians 3:6). This wondrous "mystery of Christ" (Ephesians 3:4) was a distinctive emphasis of his ministry: "Of which I became a minister according to the gift of the grace of God given to me by the effective working of His power." Paul repeatedly stated that this ministry calling was given to him by grace. "To me, who am less than the least of all the saints, this grace was given, that I should preach among the Gentiles the unsearchable riches of Christ."
On other occasions, Paul spoke of his ministry without referring to this special emphasis of Jews and Gentiles becoming one in Christ. Still, he described his ministry in the same terms of grace given to him. "According to the grace of God which was given to me, as a wise master builder I have laid the foundation" (1 Corinthians 3:10). Here, Paul views his service as a spiritual builder laying a spiritual foundation for the construction of godly lives. God's grace equipped him and sustained him in such service.
We are all called to serve our Master. In our hearts there is a desire to be used of our King. How comforting to know that our ministry will develop by God's grace given to us. Again, humble dependence is the path to such grace for ministry. "To me, who am less than the least of all the saints, this grace was given."
Lord Jesus, I long to serve You in ministry. I rejoice that ministry depends upon Your grace, not my abilities. Lord, I humbly bow before You, seeking You for the necessary grace to serve You in any way that You desire, in Your gracious name, Amen.
Famous Last Words: Lord George Lyttleton,
who died in 1773, was a British statesman who was not ashamed to own his Savior's name and define His cause:
"The evidence of Christianity, studied with attention, made me a firm believer of the Christian religion. I have erred and sinned, but have repented."

Here at Promise Land Bible Church
We don't change the message, the message changes us.


Here at Promise Land Bible Church, we are honored that you are visiting our web site at www.plbcmh.com
It is our hope at Promise Land Bible Church that you will be encouraged by the preaching and teaching of God's Word presented here. For it is our desire to teach the whole council of God, so that the body can be edified and above all that God may be glorified.
For it is our passion and desire to share the Gospel message with everyone who will hear, in obedience to God's word.
Welcome to our site here at www.plbcmh.com
The fellowship of believers who call Promise Land Bible Church home would like to welcome you to our website. We believe that salvation is by grace alone, thru faith alone, in Christ alone, and that the Holy Scripture is our sole source of authority for what we do and how we live, and that everything we do, should be done for the glory of God. This is commonly called the 5 Solas of the Reformed Faith.
So here is our invitation to you;
If you are looking for a church that affirms the sole authority of the Holy Scriptures for all of faith and practice, the pre-eminence of the preaching of the Word of God, the glorious truths of salvation called the Doctrines of Grace, the necessity and responsibility of evangelism and a serious approach to the joyful worship of God, then we warmly invite you to come and visit us.
Join us as we look to the truth of scripture and Worship the Lord.
At www.plbcmh.com we do our best to present the truth of the gospel.
"If your sorrow is because of certain consequences which have come on your family because of your sin, this is remorse, not true repentance. If, on the other hand, you are grieved because you also sinned against God and His holy laws, then you are on the right road."
BILLY GRAHAM

A statue of a stone lamb

(J.R. Miller)

"Christ, our Passover Lamb, has been sacrificed for us!" 1 Corinthians 5:7

On a little church in Germany stands a statue of a stone lamb, which has an interesting history. When some workmen were engaged on the roof of the building, one of them fell to the ground. His companions hastened down, expecting to find him dead. They were amazed, however, to see him unhurt. A lamb had been grazing just where he struck the ground, and falling upon it, the little creature was crushed to death, while the man himself escaped injury. He was so grateful for this wonderful deliverance, that he had a statue of the lamb carved in stone, and placed on the building as a memorial. The lamb saved his life, by dying in his place.

In the same way, every saved soul can point to the Lamb of God, and say, "I am saved--because Jesus died in my stead!"

What memorial have we set up to witness to our gratitude and love?

"The Son of God, who loved me and gave Himself for me!" Galatians 2:20

"Worthy is the Lamb who was slain--to receive power and riches and wisdom and strength and honor and glory and blessing!" Revelation 5:12
Word of the Day
December 11
Propitiation
hilastērion
Before leaving the subject of Law and the OT sacrificial system, let us consider one other significant word, propitiation. Both the noun hilastērion (G2435) and the verb hilaskomai (G2433) have as their root hileōs (G2436), "appeased or merciful" when speaking of gods and "cheerful, favorable, or merciful" when speaking of men. In ancient Greek, then, hilastērion conveyed the idea of bringing a gift to the gods to appease them and receive mercy.
This word was, therefore, used in the Septuagint in reference to the levitical system. It's used, in fact, to translate the Hebrew word for "mercy seat" (kappōreth, H3727) in Exo_25:17-22, where the high priest would sprinkle blood on the Day of Atonement for the sins of the people.
It is then in the NT that we read the wondrous statement of the apostle Paul in Rom_3:25: "Whom God hath set forth to be a propitiation through faith in his blood, to declare his righteousness for the remission of sins that are past, through the forbearance of God." Paul makes the startling declaration that Christ Himself was the True Mercy Seat, that the Ark of the Covenant pointed to none other but Him, Who would also not only as the High Priest bring the sacrifice, but who would as the Lamb (see December 17) be the sacrifice.
Again Hebrews makes careful note of all this: "Neither by the blood of goats and calves, but by his own blood he entered in once into the holy place, having obtained eternal redemption for us" (Heb_9:12). Unlike the OT sacrifices that had to be perpetually repeated uncounted times over the centuries, Christ's sacrifice was once-for-all and forever (Heb_10:10). No one has stated it better than theologian A. A. Hodge:
The sacrifices of bulls and goats were like token-money, as our paper promises to pay, accepted at their face-value till the day of settlement. But the sacrifice of Christ was the gold which absolutely extinguished all debt by its intrinsic value. Hence, when Christ died, the veil that separated man from God was rent from the top to the bottom by supernatural hands. When the real expiation was finished, the whole symbolical system representing it became funetum-officio, and was abolished. Soon after this, the temple was razed to the ground, the ritual was rendered forever impossible.
Scriptures for Study: Read the following verses, noting how the apostle John was also captivated by the truth of Christ's propitiation: 1Jn_1:7; 1Jn_2:1-2; 1Jn_4:10.
Thanks for visiting our site here at www.plbcmh.com