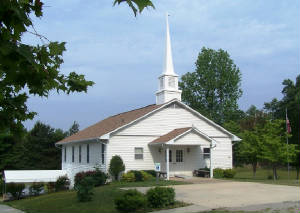 Come and Worship with us at
8256 Promise Land Road
Mountain Home, Arkansas 72653
Our Worship Schedule is
The Church is Open, worship with us inside or outside, message is transmitted on FM 95.1
Sunday Bible Study - 9:45am
Sunday Worship - 11:00am
Wednesday Night Prayer Meeting - 6:00pm
Wednesday Night Bible Study - 7:00pm
Today's Memory Verse
"For by grace are you saved through faith; and that not of yourselves: it is the gift of God: not of works, lest any man should boast."
EPHESIANS 2:8, 9

"Receive every inward and outward trouble, every disappointment, pain, uneasiness, temptation, darkness and desolation with both hands, as to a true opportunity and blessed occasion of dying to self and entering into a fuller fellowship with thy self-denying, suffering Savior."
JOHN WESLEY

"I need to get my life cleaned up first."

Those who think that they can clean up their lives don't see their true plight. They are standing guilty before a wrath-filled God. They have been condemned by His Law (John 3:18; Romans 3:19). If a man commits rape and murder and admits to the judge that he is guilty, will the judge let him go just because the man promises to clean up his life? He is in debt to the law and must be punished. We may be able to clean up our lives in the sight of man, but not in the sight of God. The only way we can be cleansed is to repent and trust in the Savior.

Cameron, K., & Comfort, R. (2004). The school of biblical evangelism: 101 lessons: how to share your faith simply, effectively, biblically-the way Jesus did (pp. 303-304). Gainesville, FL: Bridge-Logos Publishers.
Point to Ponder

The world's has many ignorant maxims: 1. "All good things must come to an end." This isn't true for the Christian; see Ephesians 2:4-7. 2. "Which came first, the chicken or the egg?" The chicken; see Genesis 1:20. 3. "There's no such thing as a free lunch." See Matthew 14:19. 4. "You can't take it with you." The Christian's works "follow" him; see Revelation 14:13. 5. "There are only two things in life that are sure-death and taxes." Plenty of people avoid taxes; none avoid death. See Hebrews 9:27. 6. "Crime doesn't pay." It does ... up until Judgment Day; see Romans 2:6. 7. "As miserable as sin." Sin gives pleasure; see Hebrews 11:25. 8. "That's impossible!" With God, nothing is impossible; see Mark 10:27. 9. "No one will know!" God knows; see 1 John 3:20. 10. "It's the perfect crime." Judgment Day will prove that there is no such thing as a crime that escapes justice; see Hebrews 4:13. 11. "Seeing is believing." Any magician knows that isn't true. The eyes are easily fooled; see Proverbs 28:26. 12. "God helps those who help themselves." God helps those who cannot help themselves; see Romans 5:6.


Day by Day by Grace
Abel's Acceptable Worship Sacrifice, by Faith
By faith Abel offered to God a more excellent sacrifice than Cain, through which he obtained witness that he was righteous, God testifying of his gifts; and through it he being dead still speaks. (Hebrews 11:4)
The Lord desires that people become true spiritual worshipers of Him. "The hour is coming, and now is, when the true worshipers will worship the Father in spirit and truth; for the Father is seeking such to worship Him" (John 4:23). This can only become a reality through faith in the Lord. One helpful example of this is Abel's acceptable worship sacrifice, by faith.
Cain and Abel were two sons of Adam and Eve. The time came when they both offered sacrifices unto the Lord. "And in the process of time it came to pass that Cain brought an offering of the fruit of the ground to the LORD. Abel also brought of the firstlings of his flock and of their fat" (Genesis 4:3-4a). The sacrifice of Cain was rejected by God, whereas Abel's sacrifice was accepted. "And the LORD respected Abel and his offering, but He did not respect Cain and his offering" (Genesis 4:4b-5a). Our primary verse tells us why Abel's gift of worship was acceptable to the Lord. "By faith Abel offered to God a more excellent sacrifice than Cain." Abel's sacrifice was given by faith. It came from a heart that believed in the Lord and trusted in His righteous ways. "The sacrifice of the wicked is an abomination to the LORD...but He loves him who follows righteousness" (Proverbs 15:8-9). When the Lord accepted Abel's offering, He was declaring that Abel was righteous in His sight: "through which he obtained witness that he was righteous." Elsewhere, the word confirms that Cain was an unbeliever; whereas, Abel walked in righteousness. "Cain...was of the wicked one and murdered his brother. And why did he murder him? Because his works were evil and his brother's righteous" (1 John 3:12).
When we offer worship sacrifices to the Lord, He is looking at our hearts. Are we trusting in Him? Are we yielding to the righteous paths that His word has set forth? Whether we are offering praise, giving thanks, doing good deeds, or sharing our resources with others, we are to do it all by faith in the Lord Jesus Christ. "Therefore by Him let us continually offer the sacrifice of praise to God, that is, the fruit of our lips, giving thanks to His name. But do not forget to do good and to share, for with such sacrifices God is well pleased...you...are being built up a spiritual house...to offer up spiritual sacrifices acceptable to God through Jesus Christ" (Hebrews 13:15-16 and 1 Peter 2:5).
Dear heavenly Father, I want to be a true spiritual worshiper of You. I repent of any sacrifices that I have offered from self-interest or self-righteousness. I want to offer my worship to You through faith in Jesus Christ, my Lord, Amen.
Famous Last Words: Vicomtesse D'Houdetot,
daughter-in-law of Rousseau's Madame D'Houdetot, left the sad lament:
"I regret my life."

Here at Promise Land Bible Church
We don't change the message, the message changes us.


Here at Promise Land Bible Church, we are honored that you are visiting our web site at www.plbcmh.com
It is our hope at Promise Land Bible Church that you will be encouraged by the preaching and teaching of God's Word presented here. For it is our desire to teach the whole council of God, so that the body can be edified and above all that God may be glorified.
For it is our passion and desire to share the Gospel message with everyone who will hear, in obedience to God's word.
Welcome to our site here at www.plbcmh.com
The fellowship of believers who call Promise Land Bible Church home would like to welcome you to our website. We believe that salvation is by grace alone, thru faith alone, in Christ alone, and that the Holy Scripture is our sole source of authority for what we do and how we live, and that everything we do, should be done for the glory of God. This is commonly called the 5 Solas of the Reformed Faith.
So here is our invitation to you;
If you are looking for a church that affirms the sole authority of the Holy Scriptures for all of faith and practice, the pre-eminence of the preaching of the Word of God, the glorious truths of salvation called the Doctrines of Grace, the necessity and responsibility of evangelism and a serious approach to the joyful worship of God, then we warmly invite you to come and visit us.
Join us as we look to the truth of scripture and Worship the Lord.
At www.plbcmh.com we do our best to present the truth of the gospel.
Today's Grace Gem
Why are we here? What is our purpose?

(Frank Hall)

"In the beginning God created the heavens and the earth." Genesis 1:1

Before there was a Milky Way--there was God! Before there were galaxies, solar systems, constellations, and nebulae--there was God! Before Mercury, Venus, and Mars were plugged into their sockets--there was God! Before Polaris was fastened above the North Pole--there was God! Before Orion the hunter had a belt, and Saturn had its rings--there was God; all alone, perfect and content, glorious in His solitary existence as the eternal I AM!

Before there was a sun, a moon, or an earth; before there was grass to clothe the field, and flowers to adorn it; before the mountains were brought forth, and the sea filled the depths; before the eagle soared through the sky, and the fish swam through the sea; before angels, devils, and men had their being--there was God alone!

If we would understand things aright, we must not begin with man, but with God, for He is the beginning of all things. To begin with man is folly, for man is but a creature--a production of the Creator. We must back up and begin where the Bible begins, with God!

God's people know, and have always known what continues to baffle the minds of the scholars and scientists of our day, that "in the beginning God created the heavens and the earth." Through faith, God's people understand the mystery of creation.

I ask you, "Why are we here? What is our purpose? What is God's purpose?" Can we even know the answer to these questions? Indeed we can.

The twenty four elders seated around God's throne in Heaven give us the answer in Revelation 4:10-11, "The twenty-four elders fall down before Him who sits on the throne and worship Him who lives forever and ever, and cast their crowns before the throne, saying: You are worthy, O Lord, to receive glory and honor and power; for You created all things, and for Your pleasure they exist and were created!"

You, me, angels, animals, plants, rocks, and all other things, exist and were created for one reason--the pleasure of the Creator. We were created according to His will and purpose, for His pleasure and glory.

God did not create the Heaven and the earth arbitrarily. He created them to be the stage upon which He would perform His eternal purpose of grace, and reveal all the wonders of His goodness and mercy toward His elect. It is upon the stage of time, that God displays His eternal purpose and shows forth His glory in the salvation of chosen sinners. He created this world for the salvation of His people, that they would be recovered from their sin by His almighty grace.

"I am God, and there is no other; I am God, and there is none like Me. Declaring the end from the beginning, and from ancient times things that are not yet done, saying: My counsel shall stand, and I will do all My pleasure!" Isaiah 46:9-10
Word of the Day
October 22
Watch
grēgoreuō
The word watch often translates grēgoreuō (G1127), which is derived from egeirō (G1453; "to arise, arouse") and literally means "to watch, to refrain from sleep." It eventually changed in meaning from that literal sense to the metaphorical and religious sense of attention, watchfulness, and vigilance.
We find this word several times in the NT, and each one is significant. In His Olivet Discourse, for example, our Lord speaks of His Second Coming: "Watch therefore: for ye know not what hour your Lord doth come" (Mat_24:42; cf. Mat_25:13). Since we do not know when He will return, we are to be watching carefully and remaining attentive to the things of God.
In Mat_26:36-41, we then witness a shameful scene. Here we find Jesus in the Garden of Gethsemane, where he asks His disciples to sit with Him and support Him as He goes off to pray. But when He returns, he finds them asleep and asks, "Could ye not watch with me one hour?" (Mat_26:40). He then further challenges them, "Watch and pray, that ye enter not into temptation: the spirit indeed is willing, but the flesh is weak" (Mat_26:41). In both instances "watch" is grēgoreuō. Yes, we all have physical infirmities, but we must live above them. It's imperative that we be ever vigilant and stand with the Lord.
In one of the most important passages in the NT on the duty of pastors in the church, Paul first outlined those responsibilities to the Ephesian elders at Miletus and then declared, "Therefore watch" (Act_20:17-31). How imperative it is today that pastors watch everything so as to protect the sheep!
Grēgoreuō also appears in 1Co_16:13: "Watch ye, stand fast in the faith, quit you like men, be strong." To be a Christian means to be attentive to spiritual things, to stand for Christ at all times, never giving an inch concerning the Christian faith; we are to stay strong and never quit.
Still another occurrence of this word is 1Pe_5:8: "Be sober, be vigilant [grēgoreuō]; because your adversary the devil, as a roaring lion, walketh about, seeking whom he may devour." We must constantly be watching our Christian walk so as not to fall into one of Satan's snares (see October 1).
Scriptures for Study: Read the following verses, noting the use of grēgoreuō: Col_4:2; 1Th_5:6, 1Th_5:10.
Thanks for visiting our site here at www.plbcmh.com