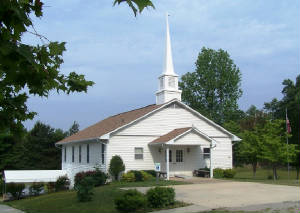 Come and Worship with us at
8256 Promise Land Road
Mountain Home, Arkansas 72653
Our Worship Schedule is
The Church is Open, worship with us inside or outside, message is transmitted on FM 95.1
Sunday Bible Study - 9:45am
Sunday Worship - 11:00am
Wednesday Night Prayer Meeting - 6:00pm
Wednesday Night Bible Study - 7:00pm
Today's Memory Verse
"For the wages of sin is death; but the gift of God is eternal life through Jesus Christ our Lord."
ROMANS 6:23

"Even if I were utterly selfish and had no care for anything but my own happiness, I would choose, if God allowed, to be a soul winner, for never did I know perfect, overflowing, unutterable happiness of the purest and most ennobling order till I first heard of one who had sought and found a Savior through my means."
CHARLES SPURGEON

"I prefer to remain open-minded."

Open-mindedness means looking at everything honestly. Are you willing to do that with Christianity? Do you want to see what Jesus has said and learn about what He can offer you?
If you say you are going to remain open-minded and not accept Christianity, then in reality you are being very closed-minded. Maybe Christianity is true. Your open-mindedness could keep you from discovering it.

Cameron, K., & Comfort, R. (2004). The school of biblical evangelism: 101 lessons: how to share your faith simply, effectively, biblically-the way Jesus did (p. 532). Gainesville, FL: Bridge-Logos Publishers.
Point to Ponder

An African chief got wind of a mutiny being planned in his tribe. In an effort to quash the revolt, he called the tribe together and said that anyone caught in rebellion would be given one hundred lashes, without mercy.
A short time later, to the chief's dismay, he found that his own brother was behind the revolt. He was trying to overthrow him so that he could be head of the tribe. Everyone thought the chief would break his word. But being a just man, he had his brother tied to a tree. Then he had himself tied next to him, and he took those one hundred lashes across his own bare flesh in his brother's place. In doing so, he not only kept his word (justice was done), but he also demonstrated his great love and forgiveness toward his brother.


Day by Day by Grace
Coming to the Lord for Grace
"Come to Me...and I will give you rest. Take My yoke upon you and learn from Me...and you will find rest for your souls." (Matthew 11:28-29)
Our previous meditation on the spiritual rest promised by Jesus provides an excellent opportunity to reflect again upon the relational aspect of living by the grace of God. God's grace does not abound toward us by means of some religious procedure. His grace flows into our lives as we walk in a developing relationship with Him. This is essential to understand, since it is "the grace of our Lord Jesus Christ" (2 Corinthians 8:9) that we are to be experiencing.
It is in coming to the Lord, in relating to the Lord, that we find His grace at work in our lives. "Come to Me...Take My yoke... learn from Me." When we first come to Jesus in humble dependence, we find His grace forgives us of our sin and guilt. When we yoke up with Him, walking intimately with Him each day, we find His grace rescues us from religious, fleshly striving.
This pattern of coming to the Lord is prevalent in the Scriptures. Isaiah wrote of it concerning salvation. "Look to Me, and be saved, all you ends of the earth! For I am God, and there is no other...Surely in the LORD I have righteousness and strength. To Him men shall come" (Isaiah 45:22, 24). Isaiah also declared that by simply coming to the Lord spiritual refreshment and life from God would be available. "Ho! Everyone who thirsts, come to the waters...Listen diligently to Me, and eat what is good, and let your soul delight itself in abundance. Incline your ear, and come to Me. Hear, and your soul shall live" (Isaiah 55:1-3). Of course, Jesus restated this profound invitation concerning Himself. "If anyone thirsts, let him come to Me and drink. He who believes in Me, as the Scripture has said, out of his heart will flow rivers of living water" (John 7:37-38).
The Apostle Peter wrote of another significant issue for which we come to Jesus. "Coming to Him as to a living stone, rejected indeed by men, but chosen by God and precious, you also, as living stones, are being built up a spiritual house, a holy priesthood, to offer up spiritual sacrifices acceptable to God through Jesus Christ" (1 Peter 2:4-5). If we are going to access the grace that edifies our lives, we must consistently be coming to Jesus Christ, the Father's chosen and precious cornerstone.
Dear Lord, I praise You for the grace that I find every time I come to You in humble dependence. Coming to You, I am cleansed, sustained, refreshed, and built up. I am so thankful that Your grace is accessed through relationship with You and not through religious performance by me!
Famous Last Words: Leonardo da Vinci,
artist, died 1519:
"I have offended God and mankind because my work did not reach the quality it should have."

Here at Promise Land Bible Church
We don't change the message, the message changes us.


Here at Promise Land Bible Church, we are honored that you are visiting our web site at www.plbcmh.com
It is our hope at Promise Land Bible Church that you will be encouraged by the preaching and teaching of God's Word presented here. For it is our desire to teach the whole council of God, so that the body can be edified and above all that God may be glorified.
For it is our passion and desire to share the Gospel message with everyone who will hear, in obedience to God's word.
Welcome to our site here at www.plbcmh.com
The fellowship of believers who call Promise Land Bible Church home would like to welcome you to our website. We believe that salvation is by grace alone, thru faith alone, in Christ alone, and that the Holy Scripture is our sole source of authority for what we do and how we live, and that everything we do, should be done for the glory of God. This is commonly called the 5 Solas of the Reformed Faith.
So here is our invitation to you;
If you are looking for a church that affirms the sole authority of the Holy Scriptures for all of faith and practice, the pre-eminence of the preaching of the Word of God, the glorious truths of salvation called the Doctrines of Grace, the necessity and responsibility of evangelism and a serious approach to the joyful worship of God, then we warmly invite you to come and visit us.
Join us as we look to the truth of scripture and Worship the Lord.
At www.plbcmh.com we do our best to present the truth of the gospel.
Today's Grace Gem
What is it to follow the Lamb?

(William Dyer, "Follow the Lamb")

"These are the ones who follow the Lamb wherever He goes!" Revelation 14:4

What is it to follow the Lamb?

To follow the Lamb wherever He goes--is to follow Him in four things:

1st, We follow the Lamb in His COMMANDMENTS. "If you love Me--you will keep My commandments!" John 14:15. "You are My friends--if you do what I command you." John 15:14. Oh, beloved, we cannot follow the Lamb wherever He goes, unless we follow Him in His commandments! True Christians take as much delight in those precepts that enjoin holiness--as in those promises that assure happiness.

2ndly, We follow the Lamb in His TEACHING. "My sheep hear My voice, and I know them, and they follow Me! But they will never follow a stranger; in fact, they will run away from him because they do not recognize a stranger's voice." John 10:5, 27

3rdly, We follow the Lamb in His PROVIDENCE. Through all afflictions, all straits, all discouragements and sorrows whatever, though it is the way of death! We must forsake all to follow a crucified Christ, a condemned Christ, in bloody paths of sufferings--if He calls us to it. "For," says Paul, "I am ready not to be bound only--but also to die at Jerusalem, for the name of the Lord Jesus Christ!" We must be willing to venture the loss of all for Him: our liberty, our estates, our relations, and our life itself! "We have forsaken all--and followed You!" Matthew 19:27

4thly, We follow the Lamb in His EXAMPLE. "I have given you an example that you also should do just as I have done for you." John 13:15. "Christ has suffered for us, leaving us an example that we should follow in His steps." 1 Peter 2:21. To follow in Christ's steps--is to take Him for our example. We must not follow wicked men's example, who walk in the broad way that leads to death, for "They are the children of their father the Devil, and they love to do the evil things he does!" John 8:44. But we must follow our head Christ, who went about doing good. Acts 10:38

Now this is to follow the Lamb wherever He goes:
in His commands,
in His teaching,
in His providences,
in His examples.
Word of the Day
August 13
Darkness
skotos
The best way to appreciate light (see June 15-16) is to think about darkness. I remember that when I was about twelve years old, our family took a vacation out West and took a tour of the Carlsbad Caverns. At one point our tour guide told us to stand absolutely still because he wanted to show us what dark was. He then turned out the lights in the cavern. I've never forgotten that dark; it was the total, absolute absence of light.
The point of the Greek skotos, however, goes deeper; it's "chiefly of the effect of darkness upon man," which is his limited ability to see and his subsequent groping in uncertainty. One commentator puts it brutally, but truthfully: "Darkness is the emblem and region of ignorance and depravity." Ironically, Socrates agreed, "There is only one good, knowledge, and one evil, ignorance," as did poet Robert Browning, "Ignorance is not innocence but sin." Why is ignorance (see August 16) sin? Because whatever keeps us from God is sin, and ignorance does just that.
Ignorance is, indeed, man's problem. As Alfred Lord Tennyson wrote in 1850, "Let knowledge grow from more to more." But even in this age of incredible knowledge and astounding accomplishment, man is hopelessly ignorant. He is "ever learning, and never able to come to the knowledge of the truth" (2Ti_3:7).
Most significant of all, as most commentators observe, Eph_5:8-"For ye were sometimes darkness"-does not say we were in darkness, but rather it says we were darkness. To illustrate, it's not as if we used to live in a dark room and resided there like a piece of furniture, but rather, we were actually part of the darkness itself. What is the significance? Ponder these contrasts: In regard to the intellect, light pictures truth, while darkness pictures ignorance (see also October 2); likewise, in regard to morality, light pictures holiness, while darkness pictures impurity.
History bears this out. For example, the "Dark Ages" (about 590-1000) was a time of great ignorance, superstition, and immorality. Likewise, because of the darkness that resides in him, man has been ignorant, superstitious, and immoral down through the ages. We need only think of the immoral practices of pagan religion, not to mention those of modern society, to see that man truly is darkness.
This prompts us all the more to rejoice in the Light.
Scriptures for Study: Read the following verses, noting in each the contrast of what we were and what we are: Rom_13:12; 1Th_5:4-5; 1Pe_2:9; 1Jn_1:6.
Thanks for visiting our site here at www.plbcmh.com