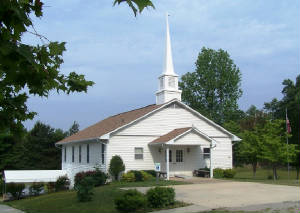 Come and Worship with us at
8256 Promise Land Road
Mountain Home, Arkansas 72653
Our Worship Schedule is
The Church is Open, worship with us inside or outside, message is transmitted on FM 95.1
Sunday Bible Study - 9:45am
Sunday Worship - 11:00am
Wednesday Night Prayer Meeting - 6:00pm
Wednesday Night Bible Study - 7:00pm
Today's Memory Verse
"You adulterers and adulteresses, do you not know that the friendship of the world is enmity with God? whosoever therefore will be a friend of the world is the enemy of God."
JAMES 4:4

"If the giving of the Law, while it was yet unbroken, was attended with such a display of awe-inspiring power, what will that day be when the Lord shall, with flaming fire, take vengeance on those who have willfully broken that Law?"
CHARLES SPURGEON

"Jesus taught hatred by saying that a Christian should 'hate' his father and mother."

This is called "hyperbole"-a statement of extremes, contrasting love with hate for emphasis' sake. The Bible often does this (Proverbs 13:24; 29:24). Jesus tells us that the first and greatest Commandment is to love God with all of our heart, soul, and mind (Matthew 22:37, 38). As much as we treasure our spouse and family, and even our own life, there should be no one whom we love and value more than God, no one who takes precedence in our life. To place love for another (including ourself) above God is idolatry.

Cameron, K., & Comfort, R. (2004). The school of biblical evangelism: 101 lessons: how to share your faith simply, effectively, biblically-the way Jesus did (p. 45). Gainesville, FL: Bridge-Logos Publishers.
Day by Day by Grace
The New Covenant Promise of a New Heart
"I will give you a new heart and put a new spirit within you; I will take the heart of stone out of your flesh and give you a heart of flesh." (Ezekiel 36:26)
To live in obedience to the will of God, man needs more than his own best efforts and intentions. The history of Israel emphatically demonstrates this. God gave His law. He commanded them, saying, "Walk in My statutes, keep My judgments, and do them" (Ezekiel 20:19). Israel had promised to obey. "All that the LORD has said we will do, and be obedient" (Exodus 24:7). Nevertheless, they failed miserably. "Notwithstanding, the children rebelled against Me; they did not walk in My statutes, and were not careful to observe My judgments" (Ezekiel 20:21).
In order to live obedient lives, people need a new life from God, followed by an understanding in how to develop that new life. Here, we see a promise from God to supply that new life. "I will give you a new heart and put a new spirit within you." These promises are related to the new covenant of grace that the prophets proclaimed for Israel some day. "Behold, the days are coming...when I will make a new covenant with the house of Israel...not according to the covenant that I made with their fathers in the day that I took them by the hand to bring them out of the land of Egypt" (Jeremiah 31:31-32). The book of Hebrews elaborates on this new covenant of grace and applies it to the church today: "Therefore, brethren, having boldness to enter the Holiest by the blood of Jesus, by a new and living way which He consecrated for us" (Hebrews 10:19-20).
When anyone embraces the grace of God offered in Jesus Christ (the mediator, the great High Priest of the new covenant), that person is born again by the Spirit of God. "That which is born of the flesh is flesh, and that which is born of the Spirit is spirit" (John 3:6). This is a necessity. "Unless one is born again, he cannot see the kingdom of God" (John 3:3). Human "flesh-birth" brings with it a hard spiritual heart (a dead spirit). Spiritual new birth from God replaces this hard heart (this dead, non-responsive spirit). "I will give you a new heart and put a new spirit within you." Think of our desperate need for this work of God that brings us a new heart, a new life. Those not born again are described as living "in the futility of their mind, having their understanding darkened, being alienated from the life of God... because of the hardening of their heart" (Ephesians 4:17-18). Yet, whoever relies upon the grace of God offered in Jesus Christ becomes a new-born child of God. "Therefore, if anyone is in Christ, he is a new creation; old things have passed away; behold, all things have become new" (2 Corinthians 5:17).
Dear Lord, giver of new life, I praise You for replacing my old, hard, dead heart with a new, responsive, living heart. Now I long to grow in the newness of Christ, Amen.
Here at Promise Land Bible Church
We don't change the message, the message changes us.


Here at Promise Land Bible Church, we are honored that you are visiting our web site at www.plbcmh.com
It is our hope at Promise Land Bible Church that you will be encouraged by the preaching and teaching of God's Word presented here. For it is our desire to teach the whole council of God, so that the body can be edified and above all that God may be glorified.
For it is our passion and desire to share the Gospel message with everyone who will hear, in obedience to God's word.
Welcome to our site here at www.plbcmh.com
The fellowship of believers who call Promise Land Bible Church home would like to welcome you to our website. We believe that salvation is by grace alone, thru faith alone, in Christ alone, and that the Holy Scripture is our sole source of authority for what we do and how we live, and that everything we do, should be done for the glory of God. This is commonly called the 5 Solas of the Reformed Faith.
So here is our invitation to you;
If you are looking for a church that affirms the sole authority of the Holy Scriptures for all of faith and practice, the pre-eminence of the preaching of the Word of God, the glorious truths of salvation called the Doctrines of Grace, the necessity and responsibility of evangelism and a serious approach to the joyful worship of God, then we warmly invite you to come and visit us.
Join us as we look to the truth of scripture and Worship the Lord.
At www.plbcmh.com we do our best to present the truth of the gospel.
The way to life eternal!

(William Jay)

"For to me, to live is Christ and to die is gain!" Philippians 1:21

A dislike of death is no proof of the lack of genuine religion. The instincts of nature shrink from it, for no creature can like its own dissolution. But though death is not desired, the result of it may be, for to the Christian dying is the way to life eternal!

"Only a few years will pass, before I go on the journey of no return." Job 16:22

"Blessed are the dead who die in the Lord from now on!" Revelation 14:13
Point to Ponder

A preacher was once given free tickets to the rock musical Jesus Christ Superstar. The cast had extended the invitation, insisting that he attend, so for their sake he went. After the show he was invited to meet the cast. He told the talented singers that he enjoyed their performance, but that the Jesus they portrayed was not the Jesus of the Bible. The woman who played Mary Magdalene replied, "But we are making Jesus acceptable to the twentieth century."
Her statement was true. Man has always tried to make God acceptable to himself. He prefers to try to change God rather than change his own sinful ways. It is called "idolatry"-making a god in your own image.


Word of the Day
June 1
Knoweth the Hearts
kardiognōstes
Theologians often speak of the attribute of God called "omniscience," which means that God knows all things. Twice in Scripture, however, we read of a particular application of omniscience that is sobering indeed. In Act_1:24 we read, "Thou, Lord, which knowest the hearts of all men." We read again in Act_15:8, "And God, which knoweth the hearts, bare them witness, giving them the Holy Ghost, even as he did unto us." Amazingly, the words knoweth [or knowest] the hearts are a single word in the Greek, kardiognōstes (G2589).
This word was unknown in both secular Greek and the Septuagint. It's a compound comprised first of kardia (see November 14), which originally referred to the seat of emotions and spirituality but eventually came to mean spiritual and intellectual life. Gnoskō (see January 17) means "to know by experience" and often is practically synonymous with love and intimacy. Putting these together, then, the meaning is clear and powerful. God is "the knower of hearts," or simply the " heart-knower."
Throughout Scripture, we're told that God looks into the heart and knows our thoughts and attitudes. While the Greek construction is a little different in Luk_16:15, the meaning is the same. Our Lord reveals the hypocrisy of the Pharisees and says to them, "Ye are they which justify yourselves before men; but God knoweth your hearts: for that which is highly esteemed among men is abomination in the sight of God." To the church at Thyatira, our Lord warned, "I am he which searcheth the reins and hearts: and I will give unto every one of you according to your works" (Rev_2:23; cf. Jer_17:9-10).
That is why the Word of God is so important. Since Jesus is the Word who became flesh, His Word is therefore the "discerner of the thoughts and intents of the heart" (Heb_4:12). This challenges us to guard our thoughts, attitudes, motives, and all else. Knowing that God sees any pretense, any wrong motive, or any hidden agenda will help us guard our thinking.
Scriptures for Study: As a result of His knowing all things, what does God, therefore, do righteously (Jer_11:20)? In Rom_8:26-27, what subject is Paul discussing and how does it apply to God knowing our hearts?